Fiamma Zip Awnings for motorhome's and Campervans UK
Increase your Motorhome living space with the Fiamma Motorhome Zip Awning.
This Motorhome Awning incorporates the latest Fiamma Privacy Room styling with attractively designed white panels, which also offer greater versatility and improved strength and stability. The Fiamma Zip awning is lightweight, compact and quick and simple to erect and can be used partially or as a fully enclosed room, its great for weekends or extended holidays, being easy to erect and easy to pack away.
To buy Fiamma head to our new site click here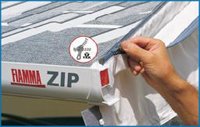 This Motorhome awning is the same as the Fiamma Privacy room with the addition of YKK zips sewn into the side outer edges of the vinyl roof. These zips are used to directly attach the Zip-on side panels to the roof. Side panels are supported from the top and rear using the Fiamma "Rapid Set", a one piece pole set that combines a single roof rafter and leg support. Each side panels incorporates vertical YKK zips at the front edge of the panel, which connect to the front panel on this motorhome awning.

The front panel of the Motorhome Zip Awning is supported at the top by a 'C' profile built into the canopy roller bar. The front panel includes an independent doorway, which can be installed to the left or the right hand side according to personal preference and the entire front panel can be rolled up or simply removed. Side panels incorporate a clear window, which can be rolled up to expose a large mosquito mesh panel, providing plenty of ventilation for your motorhome awning on those hot summer days (when they happen). The Fiamma Motorhome Zip Awning is supplied complete with a full set of curtains for each window and a strong zippered carry bag for transportation and keeping awning panels and frame work dry and safe.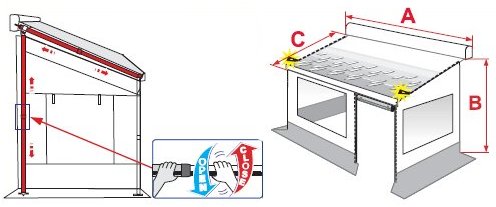 To buy Fiamma head to our new site click here

Fiamma F45 Zip
If you Would like the Complete Fiamma F45 Zip please select the canopy Colour and the corrisponding Privacy Room
Decription

Awning Length (A)

Canopy Extension (C)

Canopy

Deluxe Grey

Ocean Blue

ZIP S 300

3.06m

250cm

ZIP L 400

4.06m

250cm
| | | | | | |
| --- | --- | --- | --- | --- | --- |
| Description | Height (B) | Awning Length (A) | Canopy Extension (C) | Weight | Privacy Room ZIP |
| ZIP S 300 Medium | 225-250cm | 3.06m | 250cm | 37 kg | |
| ZIP S 300 Large | 251-280cm | 3.06m | 250cm | 37 kg | |
| ZIP S 350 Medium | 225-250cm | 3.56cm | 250cm | 38 kg | |
| ZIP S 350 Large | 251-280cm | 3.56m | 250cm | 38 kg | |
| ZIP L 400 Medium | 225-250cm | 4.06m | 250cm | 41.5 kg | |
| ZIP L 400 Large | 251-280cm | 4.06m | 250cm | 41.5 kg | |
| ZIP L 450 Medium | 225-250cm | 4.56m | 250cm | 51 kg | |
| ZIP L 450 Large | 251-280cm | 4.56m | 250cm | 51 kg | |
To buy Fiamma head to our new site click here

Colour's available for the Fiamma Motorhome Zip Awning