Fiamma Caravanstore caravan awnings UK

Elegant, nice-looking and really affordable Fiamma Caravanstore awning. The only awning for caravans and minivans with tubular rewind for wrinkle-free fabric.


To buy Fiamma head to our new site click here
Fiamma Caravanstore awning
The Fiamma Caravanstore, the number One awning for caravans across Europe.

It's an easy to use, sturdy and lightweight bag awning. Taking only seconds to completely roll out, Fiamma Caravanstore awnings offer excellent shelter from rain and sun. The legs are inside the roller tube and are as standard delivered, being articulated and telescopic they're easy to take out and install.

Quick and easy!

The larger roller can be rolled-up in both ways. Just undo one screw to disassemble the legs and release the fabric for a quick and easy "pack away".

Fiamma Caravanstore is wrinkle-free.

Even after a long storage, in just a few seconds its like new and ready to go. Due to its wide roller the Fiamma Caravanstore will easily unroll and roll up back up remaining wrinkle-free! This exclusive system allows the roller to roll up both ways (photo B).


Also included is the improved wall fixing kit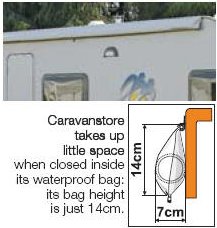 Type of Awning
Compact, lightweight and easy to operate. Horizontal and vertical support assembly slides into awning roller tube.
Major Benefits
Specially designed for caravans, trailers, pop-ups, small campers and mobile homes.
Type of Housing
Housed in a soft bag with handy YKK self lubricating zipper. No vibration when travelling.
Installation
Slides easily into the existing awning rail, supplied upon request. Easy to remove.
Fabric
Cool and cheerful, vinyl fabric with diffused lighting, hard-wearing and water-proof, with bright colours on both sides. Colour: Platinum or Ocean
Extension
225cm (180cm for 190cm awning)
Lengths available
190cm, 225cm, 255cm, 280cm, 310cm, 360cm, 410cm, 440cm
Standard equipment
Ground securing hooks. Rafter standard delivered with 410cm model, 1 Rapid Set Pro in the 440cm.
Optional
Rafter, Blocker and Caravanstore Support Leg

Fiamma Caravanstore caravan awnings are incredibly lightweight and take only a few minutes to set up and pack away. The roof rafter and leg poles are housed inside the hollow aluminium roller which, is easily rolled out by hand from the vinyl zippered bag. The front aluminium roller incorporates an internal profile designed to accept Fiamma utility panels and the brand new Fiamma CS Privacy Room.
HOW TO MEASURE YOUR CARAVAN
In order to purchase the correct size Fiamma Caravanstore it's important that you measure the straight horizontal section of the caravans awning rail. The Fiamma Caravanstore is housed inside a soft vinyl zippered bag, which offers enough flexibility to install the Fiamma Caravanstore easily however, the design of the Fiamma Caravanstore is centred around the use of a solid aluminium roller, which is unable to tolerate some curved awning rails. If you are in any doubt please email a good side profile image of your caravan to for a second opinion. See below chart for correct bag and canopy lengths.
To buy Fiamma head to our new site click here
[*] 1 Caravanstore Rafter pole supplied
[**] 1 Caravanstore Support Leg and 1 Caravanstore Rafter pole supplied.

The Caravanstore Awnings are available in two colours

To buy Fiamma head to our new site click here
Fiamma Caravanstore Accessories below