Fiamma F45S motorhome awning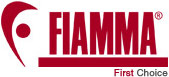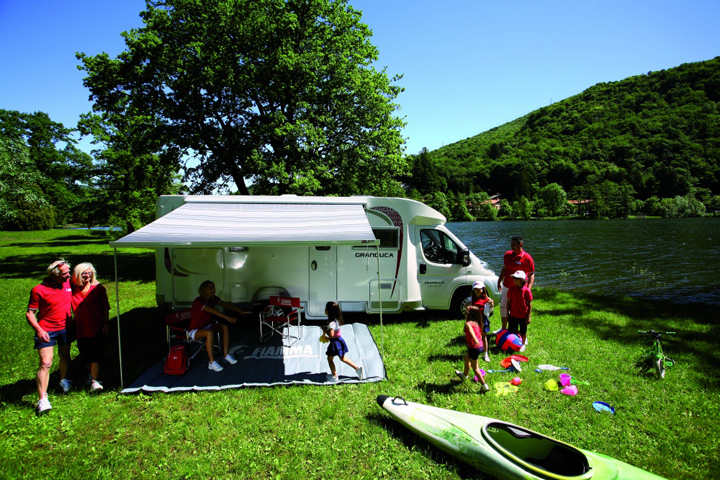 To buy Fiamma head to our new site click here
The first and only
The essential F45s Fiamma awning is the only motor home awning that is fast, user-friendly and silent during opening, closing and while travelling.
The user friendly awning
Improve the quality of your vacations with a Fiamma F45s awning, easy to use for the whole family. Constantly improved, high quality, solid and resistant.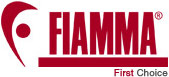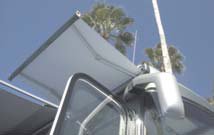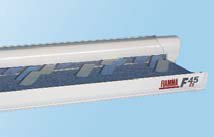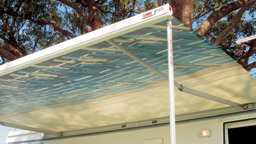 | | |
| --- | --- |
| Type of awning: | 100% automatic. Secure inside its aluminium case, available in Polar White or Titanium finish. Wall installation with brackets. |
| Major benefits | Excellent design, very sturdy, easy and safe to operate. Silent when opening/closing and while travelling. Easy to-hook winch loop. Maximum shadow surface. Easy to clean awning. Regulation system for the closure of the front bar, security mechanism self locking Auto-Lock, Dual Security system to indicate the correct closure of the front bar. |
| Application: | Motorhome and caravans. |
| Structure: | In extra strong extruded aluminium. Very light yet highly resistant with external automotive Polar White or Titanium coating finish. |
| Fabric: | Cool and cheerful vinyl canopy. UV resistant, waterproof and washable, with bright colours on both sides. |
| Colours: | Blue Ocean, Deluxe Grey. |
| Extension | F45 S 150 - Ext:104cm. / F45 S 250 - Ext: 200cm. / F45 S 300-450 Ext:250cm. |
| Lengths: | 4.50m, 5.0m, 5.5m |
| Standard Equipment: | Presto Fix® - Reinforced arms with twin cable - Extra Strong Arms from F45 S 300 - Dual Shock-Absorber - Auto-Lock - Dual Security - Folding crank handle - AS Brackets - Hooks to secure legs to the ground - Wall brackets for leg support - Tension Rafter delivered as standard in awnings upwards of 400cm. |
| Optional: | Privacy Room, Blockers, Motor Kits and Awning Installation Kits, plus the full range of Fiamma accessories. |
To buy Fiamma head to our new site click here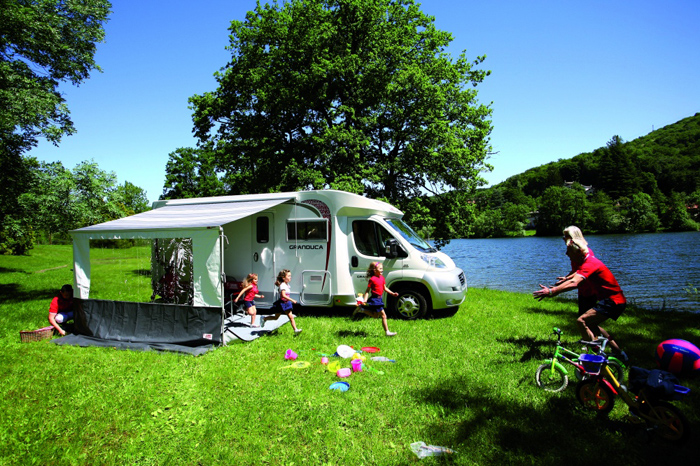 | | |
| --- | --- |
| Awnings canopy's are available in Deluxe Grey or Blue Ocean. | Cases are available in Polar White, black or Titanium. Prices below are for White. If you require titanium or black please call 0151 334 0222 for a price. |

Fiamma Awning F45S - White Case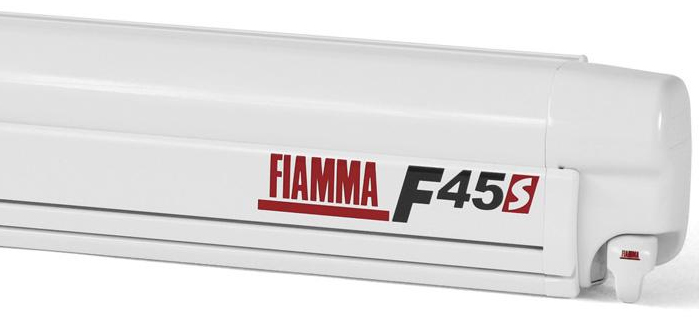 | | | | | | |
| --- | --- | --- | --- | --- | --- |
| | | | | | Available in Blue or Grey |
| F45 S 230 | 231 cm | 214cm | 150 cm | 16.5 kg | |
| | | | | | |
| F45 S 300 | 308 cm | 292 cm | 250 cm | 23 kg | |
| | | | | | |
| F45 S 400** | 398 cm | 381 cm | 250 cm | 27 kg | |
| | | | | | |
Fiamma Awning F45S - Titanium Case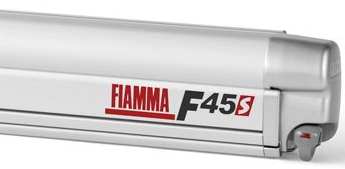 | | | | | | |
| --- | --- | --- | --- | --- | --- |
| | | | | | Available in Blue or Grey |
| | | | | | |
| F45 S 300 | 308 cm | 292 cm | 250 cm | 23 kg | |
| | | | | | |
| F45 S 400** | 398 cm | 381 cm | 250 cm | 27 kg | |
| | | | | | |
To buy Fiamma head to our new site click here
Fiamma Awning F45S - Deep Black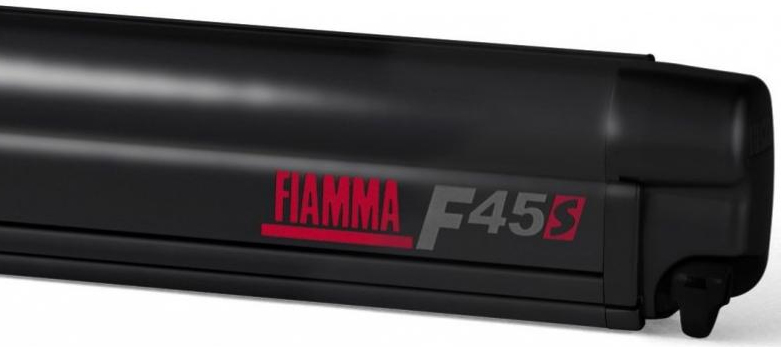 | | | | | | |
| --- | --- | --- | --- | --- | --- |
| | | | | | Only Available in Deluxe Grey |
| F45 S 230 | 231 cm | 214cm | 150 cm | 16.5 kg | |
| | | | | | |
| F45 S 300 | 308 cm | 292 cm | 250 cm | 23 kg | |
| | | | | | |
| F45 S 400** | 398 cm | 381 cm | 250 cm | 27 kg | |
| | | | | | |
** = Comes with Tension Rafter
Delivery 2 - 3 days on Fiamma F45 Awnings