Fiamma Caravanstore Zip for caravans UK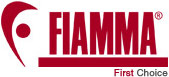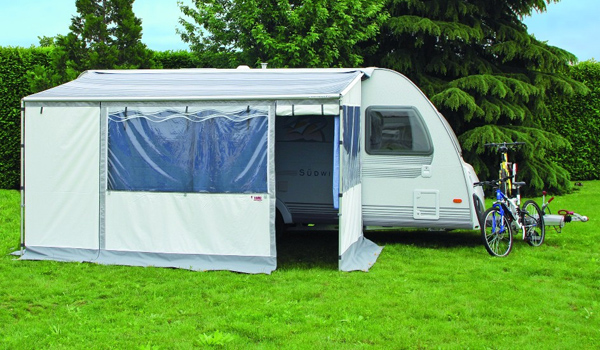 Double your caravan living space with a Fiamma Caravanstore Zip.
The Fiamma Caravanstore Zip caravan awning incorporates the latest Fiamma Privacy Room styling with attractively designed white panels, which also offer greater versatility and improved strength and stability. The Caravan Store Zip awning is lightweight, compact and quick and simple to erect caravan awning and can be used partially or as a fully enclosed room, making it ideal for weekend breaks or family holiday.
The Fiamma Caravanstore Zip is identical to the Caravanstore caravan awning with the addition of YKK zips sewn into the side outer edges of the vinyl roof. These zips are used to directly attach the Zip-on side panels to the roof. Side panels are supported from the top and rear using the Fiamma "Rapid Set", a one piece pole set that combines a single roof rafter and leg support. Each side panels incorporates a vertical YKK zip at the front edge of the panel, which connects to the front panel on the Fiamma Caravanstore zip.
The Fiamma Caravanstore zip can meet all your caravan awning needs
The side panels are quickly installed with the aluminium tension poles that are standard. The front panel easily slides into the front panel.
To buy Fiamma head to our new site click here

The front panel of the Fiamma Zip is supported at the top by a 'C' profile built into the canopy roller bar. The front panel includes an independent doorway, which can be installed to the left or the right hand side according to personal preference and the entire front panel can be rolled up or simply removed. Side panels incorporate a clear window, which can be rolled up to expose a large mosquito mesh panel, providing plenty of ventilation on hot summer days. The Fiamma Caravan Store Zip is supplied complete with a full set of curtains for each window and a strong zippered carry bag (Mega bag) for transporting and keeping panels and pole work dry and secure.

Click the image above to watch how the Zip Caravan awning is constructed.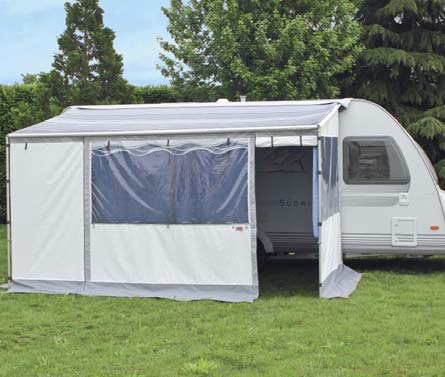 To buy Fiamma head to our new site click here

| | | | | | | |
| --- | --- | --- | --- | --- | --- | --- |
| Canopy Length | Bag Length A | Height from ground B | Extension C | Weight kg | Deluxe Grey | Ocean |
| | | | | | | |
| 2.84m | 3.10m | 2.40 - 2.60m | 2.25m | 26.1 | | |
| | | | | | | |
| 3.84m | | 2.40 - 2.60m | 2.25m | 31.9 | | |
| | | | | | | |
*1 Caravan Store awning support leg supplied.
**1 Caravan Store awning support leg and 1 Caravan Store awning rafter supplied.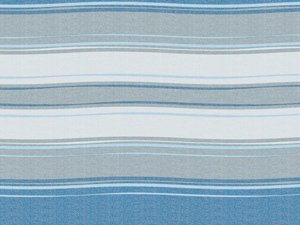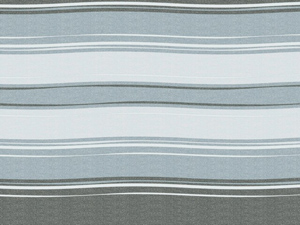 For more information on the Zip awnings click the image below