Fiamma F65S Motorhome and Campervan Awnings UK
The Fiamma F65S is the best and original campervan and motorhome roof awnings.
The F65S perfectly integrates with your motorhomes or campervans design, and now the increased dimensions make it even stronger.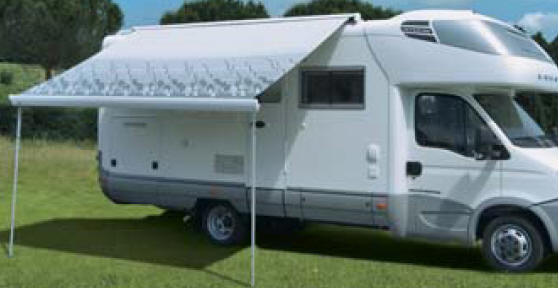 To buy Fiamma head to our new site click here

Fiamma F65S Motorhome and Campervan awnings


The compact motorhome campervan awning for a new generation.

The innovative F65S is the new generation FIAMMA motorhome roof awning which integrates onto the campervan without overhanging.
Thank to its compact and curved dimensions it's elegant and lighter. Completely made of solid aluminium. More shadow surface.
Available in three versions: Polar white, Titanium or Deep Black coating finish.
Optional: new integrated motor kit 12V dc that can be installed inside the roller, without extending the total length of your awning.

F65S Ducato

The F65S is the Premium awning ideal for installation on the Ducato Minivan.
It perfectly fits onto the vehicle without overhang.
To buy Fiamma head to our new site click here
Fiamma Awning F65S - White Case
| | | | | | |
| --- | --- | --- | --- | --- | --- |
| Description | Awning Length (A) | Canopy Length (B) | Extension (C) | Weight | Available in Deluxe Grey or Ocean Blue |
| Fiamma F65S 290** | 290 cm | 278 cm | 200 cm | 25 kg | |
| Fiamma F65S 320 | 320 cm | 308 cm | 250 cm | 26.5 kg | |
| Fiamma F65S 340 | 340 cm | 328 cm | 250 cm | 28 kg | |
| Fiamma F65S 370 | 370 cm | 358 cm | 250 cm | 31 kg | |
| Fiamma F65S 400* | 400 cm | 388 cm | 250 cm | 32 kg | |
Fiamma Awning F65S - Titanium Case
| | | | | | |
| --- | --- | --- | --- | --- | --- |
| Description | Awning Length (A) | Canopy Length (B) | Extension (C) | Weight | Available in Deluxe Grey or Ocean Blue |
| Fiamma F65S 290** | 290 cm | 278 cm | 200 cm | 25 kg | |
| Fiamma F65S 320 | 320 cm | 308 cm | 250 cm | 26.5 kg | |
| Fiamma F65S 340 | 340 cm | 328 cm | 250 cm | 28 kg | |
| Fiamma F65S 370 | 370 cm | 358 cm | 250 cm | 31 kg | |
| Fiamma F65S 400* | 400 cm | 388 cm | 250 cm | 32 kg | |
To buy Fiamma head to our new site click here
Fiamma Awning F65S - Black Case
| | | | | | |
| --- | --- | --- | --- | --- | --- |
| Description | Awning Length (A) | Canopy Length (B) | Extension (C) | Weight | Available in Deluxe Grey or Ocean Blue |
| Fiamma F65S 320 | 320 cm | 308 cm | 250 cm | 26.5 kg | |
| Fiamma F65S 370 | 370 cm | 358 cm | 250 cm | 31 kg | |
| Fiamma F65S 400* | 400 cm | 388 cm | 250 cm | 32 kg | |
*1 Rafter L included
**Currently available in Polar White cases only
F65S Motorhome Campervan Awnings available in Ocean Blue and Deluxe Grey
If you require a diferent colour case please ring for prices or click the image below for our new website:

| | | |
| --- | --- | --- |
| Item No. | Description | Buy Now |
| 497340 | PRIVACY-ROOM 340 F65 Ducato > 06-06 | |
| 497370 | PRIVACY-ROOM 370 F65 Ducato > 06-06 | |