Fiamma Caravanstore Privacy Room Light awning for caravans UK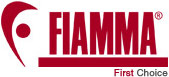 Please Note we No longer Supply this product to see our current range - Click Here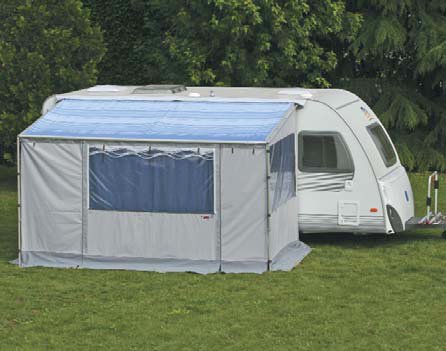 The new Privacy room CS Light (Caravanstore) are specially designed for the Fiamma Caravanstore and are suitable for all model from the 2004 version.
Turn your existing Fiamma Caravanstore canopy into a fully enclosed awning and double your living area with the New Fiamma Caravanstore Privacy Room. Robust and elegant white panels offer improved resistance against inclement weather conditions, transforming a standard Fiamma Caravanstore into a fully waterproof enclosure that could be used to offer additional night time accommodation. Panels are made from quality vinyl fabric that is both strong and lightweight and can be wiped clean.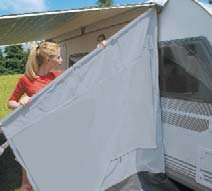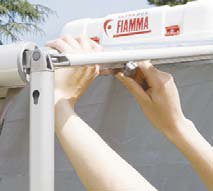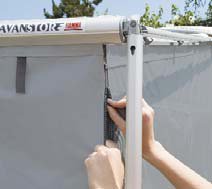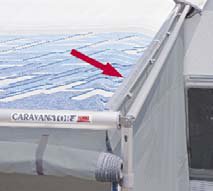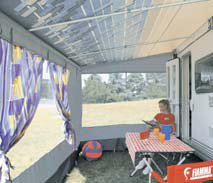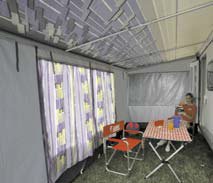 The front panel slides into the aluminium roller of the Fiamma Caravanstore, the independent front door can be situated to the left or right hand side, according to preference. Side panels are installed using the "Clip System" (see below) and these zip to the front panel to form a continuous enclosure. Side panels are fitted with clear vinyl windows, which roll-up to reveal a mosquito net panel that provides excellent ventilation on hot days.
NOW TOTALLY SECURE AND SEALED WITH THE CLIP SYSTEM!
The Fiamma 'Clip System' guarantees a 100% water tight seal between the awning canopy fabric and the Privacy Room side walls. The Clip System is effectively a clamping mechanism, with an upper and a lower section that locks around the awning roof fabric. The Clip System also incorporates a 'C' channel, which the side panel slides into. It is very strong, which allows it to double as a roof pole, with just the need for a vertical pole to connect to, in order to secure the side panel and support the large caravan protection buffer pad. Complete or partial installation is very quick with the front and side panels connecting via self-lubricating zips. Supplied with Clip System, pegs, ladder bands, guylines, carry bag (Mega bag). Curtains optional extra.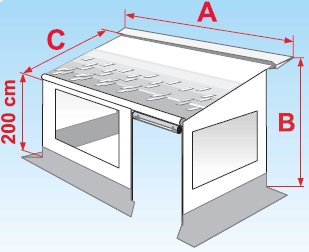 Click the image above to watch how the Fiamma Caravanstore Privacy Room Light is constructed.
Please Note we No longer Supply this product to see our current range - Click Here