Vogue Teakwood Timber Effect Above Ground Swimming Pools UK
Above ground pools more often than not look better in timber, they give a more aesthetically pleasing look for your garden pool, problem is timber pools are more expensive. The Teakwood pool is a steel pool but looks like a timber pool. There have been a few pools over the years that have tried but failed to look this good. In our opinion this is the best one for giving that timber look but having the steel price.

If you want a high quality, low-cost steel sided pool with an amazing Wood Effect Finish without costing the Earth then a Vogue Teakwood effect above ground swimming pool might be exactly what you need.
The Vogue Teakwood effect above ground pool has a much higher specification than similar priced steel pools and provides better value for money than Wooden Pools. As with all Vogue Swimming Pools you get an outstanding 29 year Pro-Rated Warranty which compare favourably to other brands that only a few years guarantee.
The Vogue Teakwood Effect Swimming Pool has a 52" deep steel wall and comes in a range of sizes to suit most gardens.
Vogue have long been a leading name in Above Ground swimming pools designed for countries with more extreme climates, with pool installations ranging from Australia to the frozen North's of Canada. To prove how hardy the Vogue Teakwood Effect above ground pool is it comes with an amazing 29 year pro-rated warranty. For quality and value for money the Vogue Teak wood effect steel sided swimming pool is hard to beat and in our opinion made by the best above ground steel pool manufacturer in the market. Using only pre-finished quality steel, Vogue Teakwood Effect above ground pools are unmatched for strength and corrosion resistance with any pool of a similar price.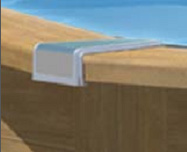 Vogue Teakwood Above Ground Swimming Pools are Available in Either Oval or Round.

Top Ledge
6" top ledge. Shaped like a heavy wood plank. Teak wood print design
Upright
Massive 6" upright. Shaped like a wood beam. Teak wood print design.
Ledge Cover
One piece cover made from synpro resin rounded corners and design that hides screws. Integrates a special high tech IMD (in mold decorative) component with an elegant styling touch of brushed stainless steel.
Oval System
Yardmore oval system makes our oval pools the strongest in the industry. They are Buttress free on the side of the pool. It's a must for anyone wanting to maximize backyard space when comparing to most oval above ground pools.
Plates & Stabilizer
Made of superior grade of Hot dip galvanized G-90 steel with Zinc protection
Wall
A rippled corrugated finish gives the wall extra resistance to both water pressure and external shocks. The wall joint is computer-designed and reinforced with extra strong joiner bars so to ensure superior resistance to water pressure.
Protection
Krystal Kote outside frame for ultimate outdoor protection Structure Colour Wood teak
Teakwood Installation Hints & Tips CLICK HERE
The Vogue Oval Teakwood Above Ground Swimming Pool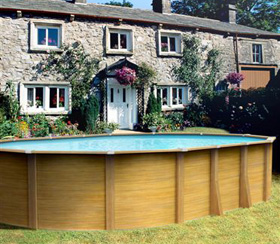 Kit Contains:

Hung Liner 16/14g

Chemical Kit

Skimmer

Sand Filter Kit

Vaccum & Pole

Pump

Pool - Steel with Teakwood effect surround

Flexible Plumbing Kit

Steel Ladder 52"

Maintenance Kit

Solar Cover

Instructions

| | | | |
| --- | --- | --- | --- |
| Code | Size | Description | BUY NOW! |
| VOGUE-T16 | 16ft x 10ft | 16ft Oval Vogue Teakwood above ground swimming pool | Discontinued |
| VOGUE-T20 | 20ft x 12ft | 20ft Oval Vogue Teakwood above ground swimming pool | Discontinued |
| VOGUE-T24 | 24ft x 12ft | 24ft Oval Vogue Teakwood above ground swimming pool | Discontinued |
| VOGUE-T30 | 30ft x 15ft | 30ft Oval Vogue Teakwood above ground swimming pool | Discontinued |
Vogue Round Teakwood Above Ground Swimming Pool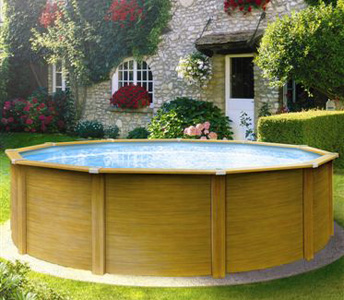 Kit Contains:

Hung Liner 16/14g

Chemical Kit

Skimmer

Sand Filter Kit

Vaccum & Pole

Pump

Pool - Steel with Teakwood effect surround

Flexible Plumbing Kit

Steel Ladder 52"

Maintenance Kit

Solar Cover

Instructions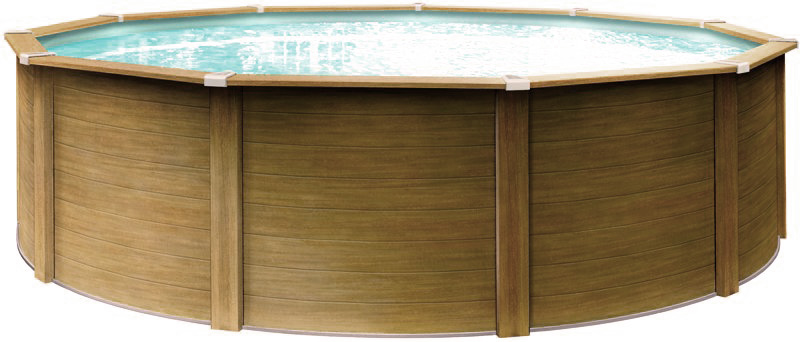 | | | |
| --- | --- | --- |
| Code | Description | BUY NOW! |
| VOGUE-T12 | 12ft Round Vogue Teakwood above ground swimming pool | |
| VOGUE-T15 | 15ft Round Vogue Teakwood above ground swimming pool | |