Doughboy above ground swimming pools & Pool accessories UK
There's no better way to enjoy time with your family and friends than in your own Doughboy swimming pool. Doughboy swimming pools make it easy for you to stay healthy while beating the heat, soaking your cares away, and enjoying big time family fun without a big time expense.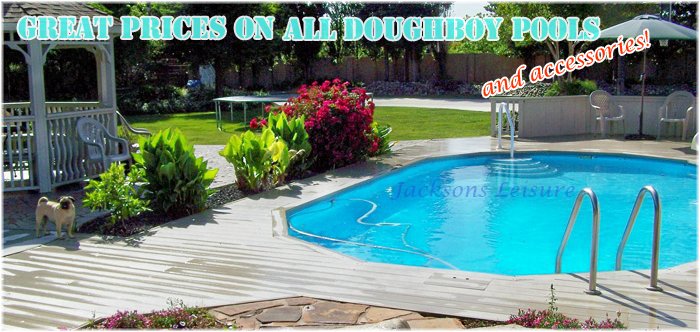 The Original Portable swimming pool, Doughboy Swimming Pools are available in a wide range of attractive designs and sizes to match your unique style and home decor. All of our Doughboy swimming pools feature stylish, decorative wall patterns. Additional entertainment features, like solar lights, waterproof sound systems, fountains, and waterfalls let you customize your ideal backyard experience. To browse our range of Doughboy swimming pools and Doughboy swimming pool products please click on the links or images below.

If you require a Pool and a Heater please call 0151 334 0222 for best price.
Jacksons Leisure Supplies
Telephone
+44 (0151) 334 0222
FAX
+44 (0151) 343 0223
Many items can be picked up from our warehouse, ring for directions
2 Woodway Court, Thursby Road, Croft Business Park, Bromborough, Wirral, CH62 3PR, United Kingdom
Electronic mail
General Information: sales@jacksons-camping.co.uk
Webmaster: john@jacksons-camping.co.uk