Vogue Discovery and Impact above ground swimming pools UK

Vogue Discovery series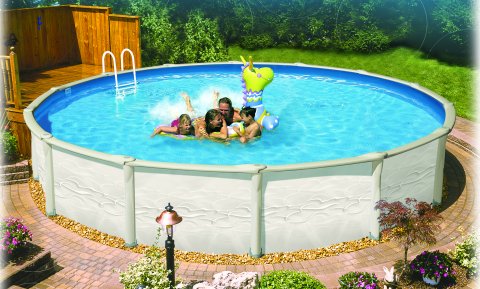 All Vogue above ground swimming pools are constructed using blow moulding technology that is used for manufacturing products such as toys, gas tanks and truck bumpers. By utilising this process both pools have a smoother, more elegant contour with superior shock absorbency. Both ranges are a breeze to install due to the unique interlocking parts that also provide increased lateral strength - that is unmatched in the industry.
Vogue pool details;

All Vogue swimming pools with kit include;

All Resin Framework - Corrosion Free

52" Wall Depth

Blow moulded curved Top Rails

High quality PVC all pattern liner

No Screws

Faster Installation

30 Year Limited Warranty

All Pools Stocked in the UK

Pool frame (wall depth 52"/1.22m)

20/16 THOU. All pattered liner

Wide mouth skimmer

Inlet fitting

Safety ladder

Sand filtration unit (inc. Sand)

Self priming pump

Rigid plumbing kit

Vacuum Kit

Water testing kit

Chemical starter package

Solar cover

Detailed installation manual

Chemical pool care book

25'/7.65m backwash hose

Delivery


Oval Discovery above ground swimming pools
| | |
| --- | --- |
| For 30 years now, Vogue remains the undisputed symbol of quality in the above ground pool market. Vogue pools have been providing pleasure with a quality design, a refreshing place to swim and a welcome highlight to countless gardens across the continent. Always in keeping with the objective of giving the customers the very best on the market - you can rely on Vogue | |
The Discovery system


A system where the assembling piece is the tool. Very fast and easy installation. Top rails are simply assembled by placing one on top of each other using anchor pins. The pins make sure that correct alignment and pool size is achieved. An oval pool is constructed with concealed lateral supports that are placed in the ground on the inside of the uprights. This installation is called the Yard Extender System - (Y,E,S), and was especially designed to optimize garden space.
High quality moulded parts

Ribbed moulding enhances support, notably at the upright bases where water pressure is most intense. Insertion system: uprights integrate joiner plates for improved stability. Virtually indestructible thanks to high resistance nylon. Maximum water pressure resistance through a mechanism that prevents plate movement after insertion.
Vogue Discovery round pools

Size

Gallons

Code

pool + kit complete

Buy

12ft dia

2700

2932-M

£

Unavailable

15ft dia

4400

2933-M

£

Unavailable

18ft dia

6350

2934-M

£

Unavailable
Vogue Discovery Oval Pools

Size

Gallons

Code

pool + kit complete

Buy

23ft x 12ft

6122

2937-M

£

Unavailable

33ft x 18ft

13100

2939-M

£

Unavailable

Basic Vogue pools are also available frame, skimmer and liner only.
Impact above ground swimming pools series

Top of the range pool available from Vogue.

Vogue use exactly the same technology to manufacture the Impact pool as the Discovery. The main difference between the two is that the Impact boasts a slightly larger framework and has a larger pool size in its product range (33' x 18'). Although the framework might be slightly larger the same principal still applies + the assembly. Again, no screws are required to fix the components together! If you want to own the best pool in the world, then look no further than the IMPACT.
Oval Impact
| | |
| --- | --- |
| The new 'Boreal' wall pattern; Without exception, the Vogue pool wall system is the best in the industry. There are no fewer than 13 protective layers applied to the impact & discovery steel wall system to ensure that you have many years of enjoyment out of your pool. | |
Please click here for more information on the Impact.


We have some offers on these pools from time to time, for details ring 0151 334 0222.
The Impact round pools

Size

Code

Pool + kit complete

15ft dia

2939-X

Discontinued

18ft dia

2940-X

Discontinued
The Impact round pools

Size

Code

Pool + kit complete

23ft x 12ft

2942-X

30ft x 15ft

2944-X

33ft x 18ft

2947-X