The Splash Swimming Pool Lift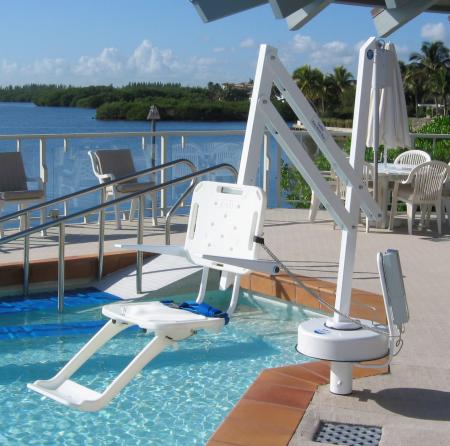 The standard Splash! lift is attached to the pool deck using a standard, 1.90 ID round anchor socket used for starting blocks or backstroke flag stanchions. Our Splash! HD (Heavy Duty) Model uses a square anchor, which is included in the pricing. We request a Poolside Configuration Worksheet with each order so that the lift can be engineered to match the each customer's specific pool specifications. The Splash! is virtually maintenance free. The components are made from corrosion-resistant materials, including powder-coated aluminium (arms, housing), and powder-coated stainless steel (base, mast, and seat frame). The unique seat of the lift was specifically designed to provide the user with the greatest possible comfort and ease of transfer. The hand control is completely waterproof, and allows either the user or the attendant to control its operation with ease. The control box and battery are water resistant and should be protected from long exposure to the water. A small, waterproof cover is included with each lift to cover the control box when the system is in use. If the lift is used outdoors, an optional full cover is available for purchase and is recommended to use to protect the system. Pricing includes a footrest.
The Splash! lift is available in the following forms:

Splash pool hoist! – Standard Splash swimming pool lift! lift provides 300lb lifting capacity. Mounted to deck with standard 1.9 ID round anchor socket.
Splash pool hoist! Spa- Designed for use with spas up to 52" (132 cm) above the deck.

Splash pool hoist! Hi/Lo – The perfect lift for facilities that have an above ground spa and an in-ground pool. The dual position chair allows a single lift to be used in both locations.

Splash pool lift! Extended Reach – For use with pools with unusual gutter configurations requiring a longer reach to the water line.
The Splash swimming pool lift! Caddie facilitates handling, transporting and storing a Splash! aquatic lift. Fabricated from rugged steel for strength and powder-coated for appearance, the Splash swimming pool lift! Caddie helps to protect both your investment and your staff. The Caddie simplifies both insertion and removal of the connector shaft into the insert in the swimming pool deck and becomes a convenient storage rack for the lift when not in use.
Splash Swimming Pool Lift Price List

SPLASH disabled hoist Standard (ADA Compliant)
SPLASH disabled hoist Spa (ADA Compliant)
SPLASH disabled hoist Hi/Lo (ADA Compliant)
SPLASH disabled hoist Extended Reach (ADA Compliant)
Lifts include socket and trolley
Swimming Pool Lift Accessories Price List

SPLASH cover
Spine board (Frame only)
Stability vest
Splash Swimming Pool Lift Spares

LA 32 Actuator
Battery charger
Battery
Arm Rest Assembly
Control box
Hand set
Seat belt assembly
Prices are ex VAT