BluOne Portable Swimming Pool Lift
Disabled access lift for in-ground swimming pools
This Disabled swimming pool lift has been developed by skilled Italian engineers. Years of experience in providing solutions for wheelchair users to gain access to vehicles, has helped to develop this revolutionary portable swimming pool lift. The use of industrial quality hydraulics will make this product a market leader.
Although designed for people with disabilities. This product can assist anyone who struggles to get in and out of a swimming pool using steps, particularly the elderly and people recovering from illness or injury.
BluOne pool lift can transfer people to and from pools, dressing rooms and other places in an easy, smooth and safe manner.
BluOne swimming pool hoist is easy to use. The person simply sits on the seat at the front and is pushed to the edge of the pool. Simply operate the brake and lock in position, press the down button and the swimmer is lowered into the pool.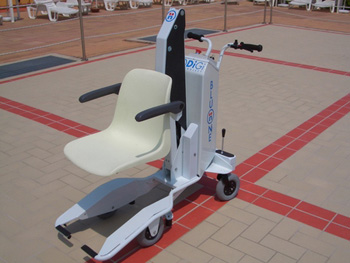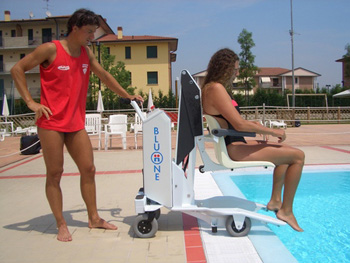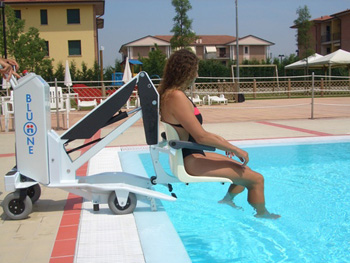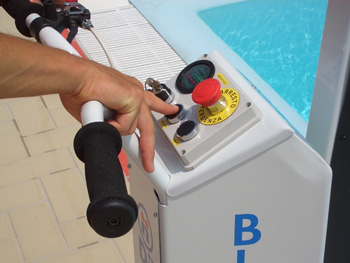 BluOne IS EQUIPPED WITH 5 KEY SAFETY FEATURES
Key starter and Emergency Stop Red mushroom button.
Handbrake. The up and down controls will not operate unless the handbrake is set.
As the arm lowers two stainless-steel rubber capped supports provide additional stability.
The lift is equipped with an emergency manual pump. Use it in case of Electrical power failure.
Rubber stoppers between front and rear wheels to prevent the lift being able to be pushed into the water.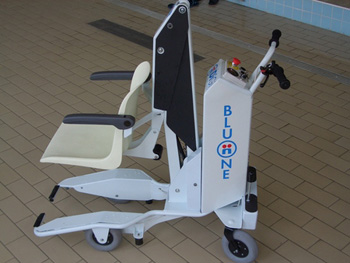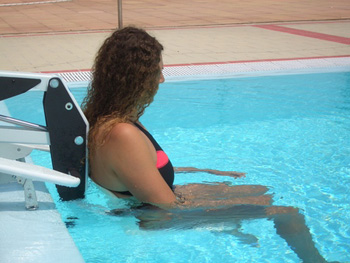 TECHNICAL SPECIFICATIONS
Lifting Capacity: 110 kg
Max. arm travel: 1150mm
Time of down-lifting with weight: 23 seconds
Time of up-lifting with weight: 17seconds
Total weight: 120Kg
Frame: electro galvanized steel FE510.
Powder coated finish
Power: 24 V. battery
Battery life: 40 cycles (approx.)
Voltage: 24 V
Electric box
Cable winder for battery charger
Seat Belt provided as standard
Standard Colour white, also available in Blue
BluOne Portable Pool Lift £5695 Ex VAT
Shipping Surcharge: £150 inc VAT
If you require more information please call us on
0151 334 0222