aXs Series Pool Lift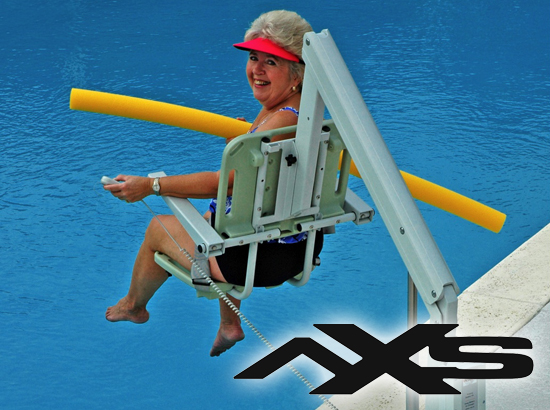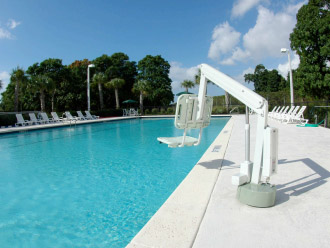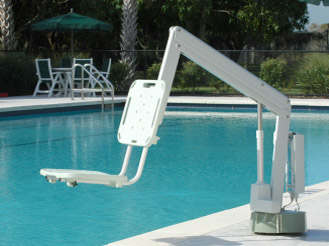 Our suppliers have been designing and producing access solutions for aquatics since 1996. In that year, the company introduced the PAL-Portable Aquatic Lift, which truly revolutionized the market for commercial swimming pool lifts. That product was followed by the Splash! series of lifts, along with an assortment of design variations for different applications.
For several years, the company has sought to produce a lift specifically designed for the unique needs of both the residential and small hotel markets. Design criteria included providing a reliable product, that would be easy to operate, affordably priced, and, feature an attractive design.
The aXs Aquatic Lift is the result of this effort.
The aXs (pronounced: "ak'-ces") combines attractive design, battery powered operation, and affordability to present a pool lift specifically designed for these markets. The aXs is a perfect access solution for simple pool designs with a maximum deck to water distance of 6 inches (15 cm). The aXs is mounted into a standard square deck anchor that is included with the lift.
The aXs was designed to mesh nicely with any patio environment. The lift weighs less than 70 pounds (without the seat) and can easily be stored when not needed using the optional transport cart.
The aXs is constructed from stainless steel and aluminum extrusions. All metallic surfaces are coated with an attractive and durable powder coated finish. The housing is formed from ABS plastic with an acrylic cap. The color of the aXs blends nicely into any backyard or hospitality pool deck.
The aXs is powered by a rechargeable battery that drives a reliable mechanical actuator. This combination is the same technology that has been used in lifts manufactured by RehaMed International since 1996. The attached hand control allows for independent operation.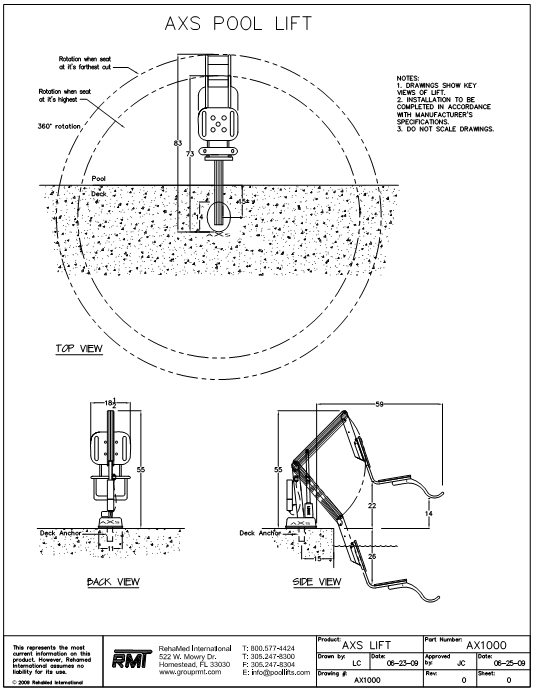 The aXs has a lifting capacity of 300 lbs. (136 kg).
Technical:
* Lifting Capacity: 300 lbs. (136 KG)
* Lifting: Linak LA34 Mechanical Actuator
* Maximum Thrust: 1680 lbs.
* Voltage: 24v DC
* Max. Amp: 9
* Max Speed: 0.59 inches/sec
* Rotation: ITT SWMK 403.033 24 VDC 13 RPM
* Gearing Ratio: 9:1
* Power: Linak Rechargeable Batter Pack BAJ1
24v DC, IP65 Gel Lead Acid
Materials and Finish:
* Base: Powder Coated Stainless Steel
* Housing: ABS Plastic Core with Acrylic Cap
* Mast: Powder Coated Stainless Steel
* Lifting Arms: Powder Coated Aluminum Extrusion
* Seat Frame: Powder Coated Stainless Steel
Dimensions:
* Base Dimensions: 11"x14" Oval Diameter
* Total Weight: 85 lbs.
* Overall Height: 57"
* Overall Length (footprint): (fully extended) 69"
w/o footrest, 84" with footrest
* 36" x 57" stored position
Range of Motion:
* Lifting:
- Variable to suit needs of pool
- 48 inches total travel for standard Splash!
- Seat depth 26" below waterline
* Rotational: 360 degrees total rotation
The AXS Pool hoist now comes complete with an accompanying Caddy
Prices are Exclusive of VAT
aXs Series Pool Hoist

RMT aXs Series Pool Hoist