Bowman Swimming Pool Heat Exchangers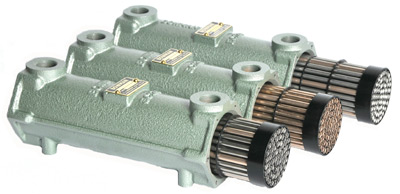 Bowman Swimming Pool Heat Exchangers are manufactured with corrosion resistant cupro-nickel tubes and corrosion resistant end covers which are suitable for use with chlorine water, seawater, therapeutic and spa pools. Our units are very easy to maintain, both the end covers and tube stack can be easily removed for cleaning purposes, this is unique to our design.
Bowman Swimming Pool Heat Exchangers can be utilised where the pool water is heated by a boiler, heat pump or solar panels and are generally suitable for pools up 1140m3 / 250,000 gallons for boiler installations and 228m3 / 50,000 gallons for solar installations.
Bowman Swimming Pool Heat Exchangers are also available with a thermostat pocket which enables a thermostat probe to be fitted directly into the end cover. This eliminates the need for the thermostat to be fitted into the pipe work (The new 5113 and 5114 series heat exchangers incorporate an integrated thermostat pocket as standard) the heat exchanger can be installed horizontally or vertically.
Bowman units offer reliability and durability and come with the following features:
Available in cupronickel, titanium and stainless steel.
Transfer up to 1050 kW to your pool quickly making more efficient use of the energy, therefore saving money.
Integral 7mm thermostat pockets (on most models) for easier installation.
Removable tube stack makes the units easy to service.
Composite end covers with solvent weld connections fit directly into the pool pipe work on 5113 and 5114 series heat exchangers.
Units are also ideal for cooling pools in warmer climates via a chiller system.
Titanium materials in contact with pool water come with a 10 year anti-corrosion guarantee.

More efficient – Incorporating more heat transfer tubes than many of our competitors' heat exchangers, Bowman units will heat your pool more quickly, dramatically reducing your fuel costs.
Easy to maintain – Special feature enables the end covers and tube stack to be removed for cleaning purposes.
Corrosion-resistant materials – Units are available in titanium, cupronickel and stainless steel making them suitable for all types of pool set-up
Easy to install – 5113 and 5114 units come complete with imperial and metric solvent weld adaptors allowing for easy installation into pool pipe work.
Solar powered heat exchangers: We've also set out a chart below for customers who want to make use of solar panels.


Bowmans Heat Exchanger Brochure


Cupro Nickel Exchangers
Stainless Steel Exchangers
Titanium Exchangers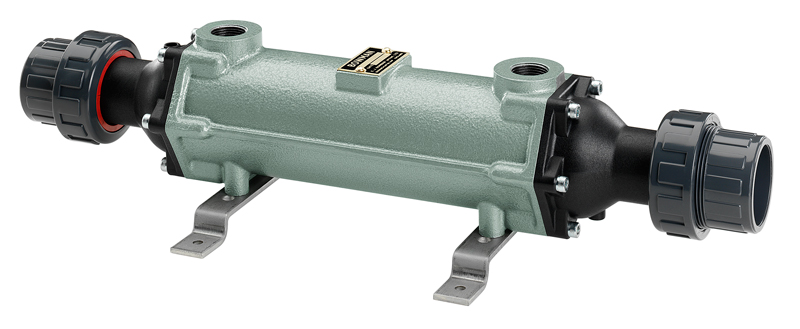 For use with Bowman Heat Exchangers

Bowman Digital Thermostat