El Niño Solar Pool Heating For Intex type Swimming Pools UK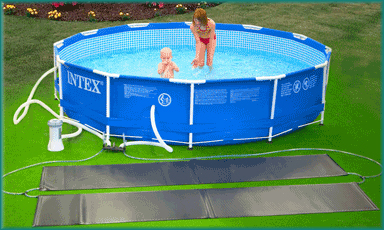 A heating system that can pay for itself in one season! All splasher and Intex type swimming pools have the same requirements as any other pool - THEY NEED HEAT! by investing in an El Niño solar heating system you can expect to increase you pool temperature by approximately 7-10 deg C throughout the summer.
In addition to enhancing you bathing experience, El Niño is also an economical and environmental friendly investment. The expensive Alternative is using domestic electricity (3kW electric heater approx 25p per hour) to achieve a comfortable bathing temperature.
Advantages of the EL Nino Swimming Pool Solar Heating system:

Suitable for most above ground or splasher swimming pools (Intex Bestway etc) Not recommended for pools with sand filters, for advice ring 0151 334 0222
Pays for itself in one year
Heats the water to a pleasant temperature - approx. 7 -10 deg C during the summer
Low weight, easy to use
Easy to store when not in use
Uses existing filter pump - no expensive or complication installations
Economical and environmentally friendly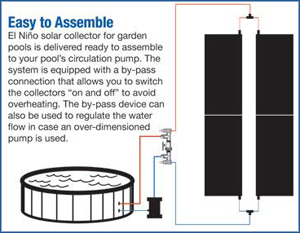 El Nino Basic Solar pool Heating Kit Includes:
Solar collector unit - 2 pieces of solar collectors (panels)
Coupling devices (Connects the solar panels to the pool)
Note: Garden hose 12mm [1/2"] is needed to connect the solar collector to the pool. Garden hose is not included. Intended for use with existing pool pump. Pump not included.
El Nino Expansion Kit Includes:
One Extra Solar Collector (Panel)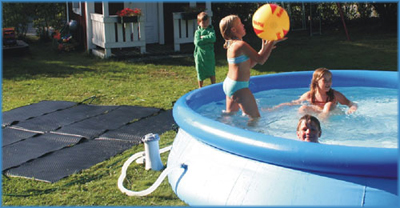 Elnino Basic Kit
Elnino Expansion Kit
El Nino Solar Heating For Intex and Bestway type Above Ground Pools
Recommended Sizing Guide

Pool Size ft

Pool Size Metres

Pool Area M sq

Basic Kit Required

Expansion Kits Required

10

3

7.2

1

0

12

3.5

10.8

1

1

13

4

14.4

2

0

15

4.5

18

2

1

16

5

21.6

3

0

18

5.5

25.2

3

1