Elecro Swimming Pool Heaters
The Elecro swimming pool heater is connected in-line to the return flow pipe of the pump and heats the water as it re-enters the pool.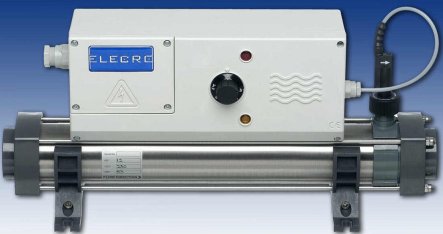 This heater has been discontinued & replaced by the Elecro Vulcan heater. Click the image below to see this range.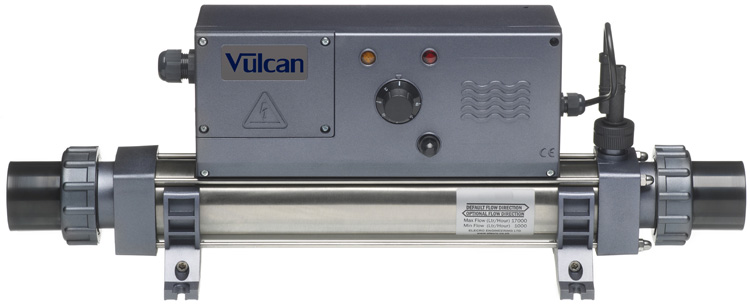 Advice on choosing a heater and what to expect
Customers with above ground swimming pools like Intex and others should know that the largest heater they can have that can be fitted with a 13 amp plug and then plug straight into a wall socket is a 3kw. After this the heater has to be "hard wired" which means it needs to wired directly back to your fuse box, in most cases this is a job for an electrician. Intex pools and other above ground pools must have a pump/filter that is on the ground outside the pool. Most owners of above ground pools do have this set up however people with 10ft Intex pools might have the new pump/filter system which hangs over the side of the pool wall, a heater can not be fitted if you have one of these pumps. If you are in doubt ring us on 0151 334 0222.
We strongly advise that customers also have a solar cover when buying an Elecro pool heater. A pool heater adds to the time the pool can be used however "heat loss" is a big problem. A solar cover on its own adds to the heat of the pool and in good weather does more than take the nip off the pool temperature. However a big advantage is that it helps to retain the heat, created by a heater, already in the pool. Without insulation i.e. a solar cover, having a heater on its own is like having the central heating on in your house with all the windows open.
Elecro Swimming Pool Heater Features:
Pre set flow switch thermostat U control
Separate safety thermostat
Integral contactor relay
Indicators to show status:
RED - Heater ON
AMBER - Standby (insufficient flow/desired temperature achieved)
Specification:
Main tank stainless steel BS316
Heating elements stainless steel BS316
Control thermostat 0-40°c with 1.5°c differential
Safety thermostat 50°c auto resets at 35°c
Flow requirements 1000 litres per hour minimum, 10,000 maximum, pressure 3 bar
Power Requirements:
3 kW 240 volt 13 amp
4.5 kW 240 volt 19 amp
6 kW 240 volt 25 amp
9 kW 240 volt 38 amp
We would like to think these are the best prices you will find for an Elecro swimming pool heater, if you can get one cheaper let us know we will try and beat or at least match the price seen. Remember we will always give you good after sales help & support with any heater purchased from us.
Elecro Nano Splasher Swimming Pool Heater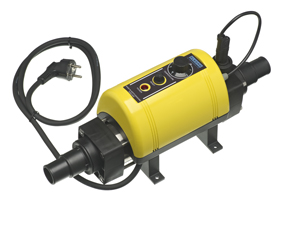 Designed For Above Ground & Splasher Pools
3-kW Power Output
Complete With Power Lead
Analogue Control Thermostat
Reversible Flow Switch
NOTE! Comes with UK plug
Robust, durable construction
Fully Equipped
Easy Installation
Incoloy 825 heating element
316 Stainless Steel flow tube
Ultra-reliable flow switch allows safe operation as low as 1m³/hour
Control thermostat 0-40°C (1°C differential)
Safety thermal cut our 60°C (manual reset)
Supplied with hose tails for connections to 1¼" or 1½" flexible pipe
Elecro Nano Splasher Swimming Pool Heater
Elecro Pool Smart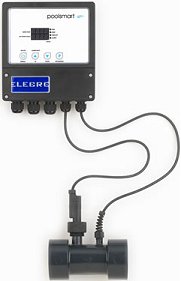 Elecro Intelligent Pool Control System for swimming pool heaters
Save Up To 27% On Fuel Bills
The Pool-Smart from Elecro is the intelligent swimming pool control system that allows you to control and maintain your pool to the perfect temperature as economically as possible.
The Complete Swimming Pool Control Solution For:
Electric Heaters
Heat Exchangers
Heat Pumps
Circulation Pumps
Features:
Priority Heating
Accurate Temperature Control to 0.5ºC
Diagnostic Display
Fully Programmable With Timed Control
2 User Defined Temperature Set Points - to utilise off-peak electricity rates
The Pool-Smart is supplied fully equipped with flow switch, temperature sensor probe fitted in custom pipe work T
Piece, for simple integration into any pool technical facility.
Q - What is priority Heating?
A - Priority heating is when the Pool Smart digital controller can determine that the swimming pool's temperature has dropped below the minimum swimming temperature and then switches the pool's circulation pump on (via the pump control cable) so that the heating product can switch on and heat the pool back to the minimum swimming temperature. Once the minimum swimming temperature has been reached the heater will also switch off the pool's circulation pump.
Q - Why does the Elecro Pool Smart heater have 2 temperature set points?
A - The Elecro Pool Smart digital controller has been designed to be the most economical heating controller available, by allowing the use of 2 set points you are able to select a higher set point for when fuel is cheaper (i.e. off peak) and then a lower set point for when fuel is more expensive (i.e. peak rate). It is recommended that the lower set point is programmed to be your absolute minimum swimming temperature, if the pool then drops below this temperature during the day the heater can switch on the circulation pump (as described above) and top up the heat to keep the pool at the minimum swimming temperature.
Intex Swimming Pool Heater
Compatible with Intex Easy Set and Intex metal frame pools 15' (457cm) diameter or smaller. The 3KW heater raises water temperature by approx 2.8°C. Includes: Water level sensor, dual thermal protector and incline switch for safety. Also includes thermometer to gauge pool water temperature. Use an Intex solar cover to maximise benefit of the heater. Please note this item is not compatible with 18' pools and above.