Peg Perego childrens battery power kids toys UK
Welcome to our battery powered toys where you'll find a small selection of kids 6v and 12v ride on toys. We have picked out two top manufactures toys as they have both been around for years and have stood the test of time as apposed to other ride on toys on the market.
Looking after your battery is crucial!
We have over 10 years experience in selling powered tractors, jeeps and quads.The one big mistake customers can make is to let the battery run completely flat! The classic scenario is the toy has been left in the garage for months and months in an uncharged state, this leads to every sell in the battery dying and you'll be unable to charge the battery anymore, leaving the customer with the expense of a new battery. If the toy is not going to use for a while ALWAYS charge the battery fully before you store it.
To view our range of Peg Perego toys click an image below.
Peg Perego Choo Choo Train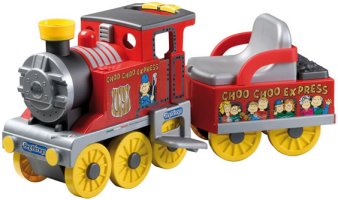 Click the image above for more details