Seitz Replacement Motorhome and Caravan Windows
Seitz S4 Hinged Windows
Also Ideal for van & horsebox conversions
With Telescopic Arms and Safety Catches.

Click Here for the Seitz Sizing Chart
The Seitz S4 Hinged Caravan Motorhome Windows are the complete window system for motorhome's and caravans. Seitz caravan motorhome windows are supplied ready to install, with grey acrylic double glazed pane, integrated roller blind and fly net. The Seitz S4 hinged caravan and motor home window provides excellent thermal insulation for efficient energy saving.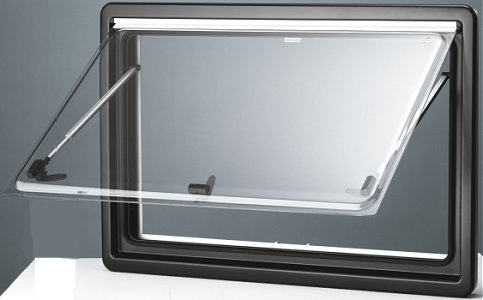 We stock most Seitz windows and send them on a next working day carrier.
Seitz S4 diy replacement caravan windows are also available as a sliding window with safety catch to stop the window being opened from outside (see our sliding windows page)
The practical, central one-hand control system of the Seitz S4 range combines both fly net and blind for easy movement into various positions.
Simple and quick installation to wall thickness from 26 up to 41 mm by trimming the interior frame.
Outer and inner frames are simply screwed together from inside, clamping the window to the vehicle wall, giving pressure for a continuing and lasting seal
Outer frame black RAL 9005.
Inner frame cream white RAL 9001
Blind has white interior with an aluminium coating to the outside.
Fly net is unpatterned white. Acrylic pane is grey.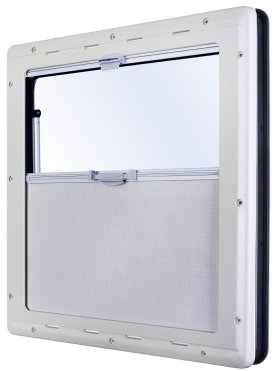 Window Details

Window Size (W x H)

Item Code

Buy Now / Price

Seitz S4 Hinged Caravan Window - 350 x 500mm

343 x 498mm

9104100001

Seitz S4 Hinged Caravan Window - 500 x 300mm

9104100002

Seitz S4 Hinged Caravan Window - 500 x 350mm

9104100002

Seitz S4 Hinged Caravan Window - 500 x 450mm

9104100004

Seitz S4 Hinged Caravan Window - 500 x 500mm

9104100005

Seitz S4 Hinged Caravan Window - 500 x 600mm

9104100006

Seitz S4 Hinged Caravan Window - 550 x 550mm

9104100007

Seitz S4 Hinged Caravan Window - 550 x 580mm

9104100008

Seitz S4 Hinged Caravan Window - 550 x 600mm

549 x 599mm

9104100009

Seitz S4 Hinged Caravan Window - 600 x 500mm

599 x 498mm

9104100010

Seitz S4 Hinged Caravan Window - 600 x 600mm

599 x 599mm

9104100011

Seitz S4 Hinged Caravan Window - 650 x 300mm

9104100012

Seitz S4 Hinged Caravan Window - 700 x 300mm

9104100013

Seitz S4 Hinged Caravan Window - 700 x 350mm

9104100014

Seitz S4 Hinged Caravan Window - 700 x 400mm

702 x 398mm

9104100015

Seitz S4 Hinged Caravan Window - 700 x 450mm

9104100016

Seitz S4 Hinged Caravan Window - 700 x 500mm

700 x 498mm

9104100017

Seitz S4 Hinged Caravan Window - 700 x 550mm

700 x 549mm

9104100018

Seitz S4 Hinged Caravan Window - 700 x 600mm

702 x 599mm

9104100019

Seitz S4 Hinged Caravan Window - 750 x 400mm

750 x 398mm

9104100020

Seitz S4 Hinged Caravan Window - 750 x 450mm

9104100021

Seitz S4 Hinged Caravan Window - 750 x 600mm

750 x 599mm

9104100022

Seitz S4 Hinged Caravan Window - 800 x 350mm

9104100023

Seitz S4 Hinged Caravan Window - 800 x 450mm

9104100024

Seitz S4 Hinged Caravan Window - 900 x 300mm

902 x 298mm

9104100025

Seitz S4 Hinged Caravan Window - 900 x 400mm

9104100026

Seitz S4 Hinged Caravan Window - 900 x 450mm

9104100027

Seitz S4 Hinged Caravan Window - 900 x 500mm

9104100028

Seitz S4 Hinged Caravan Window - 900 x 550mm

9104100029

Seitz S4 Hinged Caravan Window - 900 x 600mm

9104100030

Seitz S4 Hinged Caravan Window - 1000 x 450mm

9104100031

Seitz S4 Hinged Caravan Window - 1000 x 500mm

9104100032

Seitz S4 Hinged Caravan Window - 1000 x 550mm

9104100033

Seitz S4 Hinged Caravan Window - 1000 x 600mm

9104100034

Seitz S4 Hinged Caravan Window - 1000 x 800mm

1002 x 800mm

9104100035

Seitz S4 Hinged Caravan Window - 1100 x 450mm

1103 x 448mm

9104100036

Seitz S4 Hinged Caravan Window - 1100 x 550mm

9104100037

Seitz S4 Hinged Caravan Window - 1100 x 700mm

1103 x 699mm

9104100038

Seitz S4 Hinged Caravan Window - 1200 x 300mm

1201 x 297mm

9104100039

Seitz S4 Hinged Caravan Window - 1200 x 350mm

1202 x 347mm

9104100040

Seitz S4 Hinged Caravan Window - 1200 x 500mm

9104100041

Seitz S4 Hinged Caravan Window - 1200 x 600mm

9104100042

Seitz S4 Hinged Caravan Window - 1200 x 700mm

1201 x 699mm

9104100043

Seitz S4 Hinged Caravan Window - 1200 x 800mm

1203 x 800mm

9104100044

Seitz S4 Hinged Caravan Window - 1300 x 550mm

9104100045

Seitz S4 Hinged Caravan Window - 1300 x 600mm

1297 x 599mm

9104100046

Seitz S4 Hinged Caravan Window - 1450 x 550mm

1453 x 549mm

9104100047

Seitz S4 Hinged Caravan Window - 1450 x 600mm

1454 x 599mm

9104100048

Seitz S4 Hinged Caravan Window - 1450 x 700mm

1452 x 699mm

Seitz S4 Hinged Caravan Window - 1600 x 550mm

1602 x 549mm

9104100050

Seitz S4 Hinged Caravan Window - 1600 x 600mm

1602 x 599mm

9104100051
Seitz Windows Sizing Chart