Skypool Swimming Pools
Skypool In Ground Swimming Pools UK

Welcome to the Skypool range of bespoke swimming pools. Skypool swimming pools are manufactured to the highest standards and can be designed to your exact requirements. With Skypool swimming pools you can enjoy a quality swimming pool kit at a very attractive price thanks to its quick, easy and convenient installation system.
Skypool swimming pools are an ideal choice if you want to install the pool yourself thanks to their unique panel design. If however you don't like the sound of installing your own swimming pool, we can arrange for an engineer to come and do the hard work for you. Skypool swimming pools can be fitted in just a few days, making them one of the quickest DIY swimming pools to install.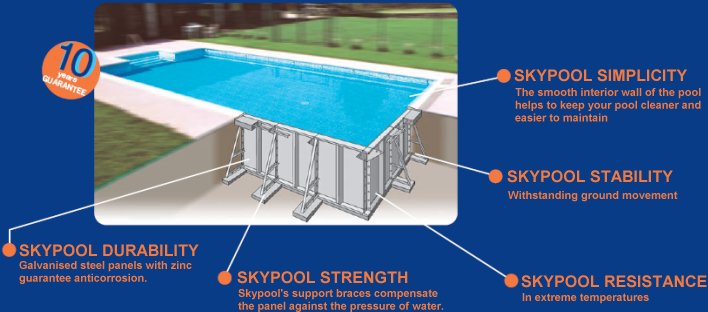 Quick assembly - The use of totally pre-fabricated components, along with the ease of assembly, considerably reduces the time it takes to construct one of our swimming pools.
Lasting durability - The latest designs and manufacturing methods have been incorporated in order to obtain the highest possible levels of quality, usability and durability in all the swimming pool's components. The metallic structure carries a 20 year guarantee.
Optimum reliability - The use of the best possible components, along with the totally safe assembly system is the best guarantee of the optimum reliability that is required for swimming pools of this sort.
Environmental sustainability - All the components used are 100% recyclable, non-contaminating and manufactured in such a way as to cause minimum environmental impact.
The best possible investment - No complex infrastructure is necessary in order to have a swimming pool of the highest possible characteristics at the lowest possible cost.
DIY or Fitted
Skypool Swimming Pool Depth Options
Flat Bottom
Especially designed for serious swimming, for adults and children alike. Recommended for smaller pools.
Choose a flat bottom with the depth you prefer: 1.20m, 1.35m or 1.50m
Solping Bottom - Skypool Swimming Pools UK
Sloping Bottom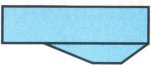 Your pool can have two different depths by combining a flat bottom with a sloping one. Ideal for the whole family.
Choose the depth you prefer by combining 1.20m, 1.35m or 1.50m panels.
Deep Sloping Bottom - Skypool Swimming Pools UK
Deep Sloping Bottom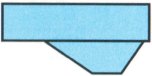 A deep sloping pool is designed for serious sportspeople.
The deepest part of the pool can be up to 2.75 metres deep, depending on the pool model.
Skypool Swimming Pool Liner Options
| | | |
| --- | --- | --- |
| Mosaic | Byzantium Blue | Byzantium Green |
| Marble | Servanne | Sand |
| Light Blue | Navy Blue | Caribbean Green |
Skypool Swimming Pool Border Options
| | | |
| --- | --- | --- |
| Carthage | Pompeii | Mykonos |
| Olympia | | Florentine |
Skypool Swimming Pool Models
Regina

With smooth yet defined and evocative lines, the Regina is the ideal swimming pool to create a pleasant, relaxed environment.
Monterrey

With its curved shape, the Monterrey swimming pool adapts to any kind of space and terrain. It is broad, spacious and very decorative, perhaps the most elegant of the Skypool swimming pool range.
Manhattan

The Manhattan transforms the shape of a rectangular swimming pool into a gently oval shape, giving a decorative touch to a high capacity, high performance pool. This pool is ideal for large spaces in any type of terrain.
Phoenix

With the Phoenix swimming pool you wont have to give up the idea of having a pool, no mater what space you have available. With this swimming pool you can be cool and relaxed in an inviting setting.
Providence

The Providence is the classic swimming pool par excellence. With its straight, angular lines it allows you to make the most of the space available. This is the ideal keep-fit pool.
Chicago

Its asymmetrical shape and gentle outline make the Chicago a different type of swimming pool, with a number of location options. For diving, swimming, splashing about or simply cooling off and relaxing, this pool meets your needs.
Boston

A swimming pool with two areas of equal size and shape. If you wish, you can order this pool with two different depths: one for children and the other for adults. Its size and shape make the Boston an ideal swimming pool for the whole family.
Carolina

A subtle yet fun swimming pool, with a touch of distinction. The Carolina's rounded forms will improve the look of any backyard.
Denver

The Denver tones down the shape of the traditional rectangular swimming pool, while maintaining its advantages. Therefore, its a spacious pool perfect for enjoying with the whole family.
Skypool Swimming Pool Kit Contents
The Skypool swimming pool system is made up of complete self supporting kits. Easy to install panels mean that you can assemble you own pool in just a few weeks.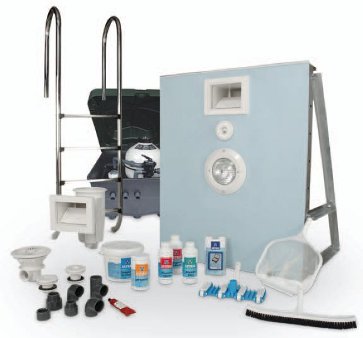 Galvanised Panel Kit
Steel Panels: 1.50, 1.35 and 1.20m high and 2mm thick plus the liner.
Compact filtration system
Pre-assembled kit with sand filter, side mounted multiport valve and recirculation pump.
Stainless Steel Ladder
Underwater Lighting
Pool Shell Kit
Pool Cleaning Kit
Plumbing Kit
Chemical Starter Kit
For more information and prices on the Sky Swimming pools please call 0151 3340222.
We also supply an installation service!!