Mono Block Swimming Pool Sand Filter.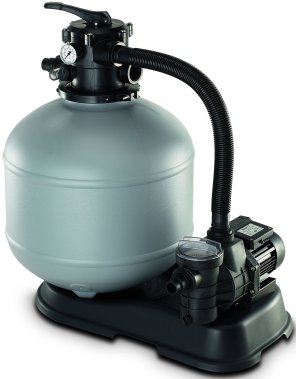 Key Features
6,000-litre per hour ½ Horsepower pump with Pre-Filter

4-Way Multi Port Valve

Pressure Gauge

Injected filter body with shoulder and neck clamp to allow easy access to the media (sand).

Includes hose tails and pipe clips to allow coupling to flexi pipes

Filter requires 50kg of filter media (at this time we suggest you pick this up from your local pool dealer, we will have a mail order option for media early this year)
Filter settings
Set to filter water

Backwash, when the water flow begins to reduce the filter "media" (sand) is due for cleaning, this can checked by reading the pressure gauge. This is a simple process of turning the pump off, switching from filter to backwash and and connecting a backwash hose to the filter and allowing the water to run to a drain point (grid etc). The water will be dirty to begin with but will quickly run clean at which point the backwash is almost complete.

Rinse, to complete the backwash, set to rinse and remove remaining dirty water in system.

For safety purposes pump should be at least 2.5 metres from pool . Elecro sand filters require 50kg of media (filter sand)
Currently unavailable
Please see below for alternative
Mega Pool Filter Set - Type FSF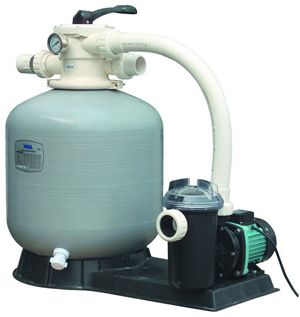 The Mega Swimming Pool Sand Filter and Pump
High quality bobbin wound fibre glass filter body.
Easy select 6 position multiport valve.
Quiet running pump with 1.5 inch fitting.
Ideal upgrade for above ground pools with paper cartridge filters.
Five year warranty on tank.
Available in four sizes.

Click here for technical info on the Mega Pool Filter Set FSF

| | | |
| --- | --- | --- |
| Filter Size | Pump Size | |
| 350mm (14 inch) | 0.33HP | Discontinued |
| 400mm (16 inch) | 0.50HP | Discontinued |
| 450mm (18 inch) | 0.75HP | Discontinued |
| 500mm (20 inch) | 1HP | Discontinued |
Jolly Gel
Jolly Gel: To use just place the required size cube or briquette in the swimming pool pump or strainer basket. The Jolly Gell slowly dissolves as the swimming pool water passes over it on its journey to the filter. The Jolly Gel places a porous, clear membrane screen over the filter media, and penetrates the bed to an average depth of some 15cms. The glutinous structure will remove the finest particles of dust and algae spores.