Waeco Mobicool B40 AC/DC portable freezer & cool box mobile coolbox
Waeco Mobicool B40 Hybrid has Thermoelectric on cooling & Compressor on freezing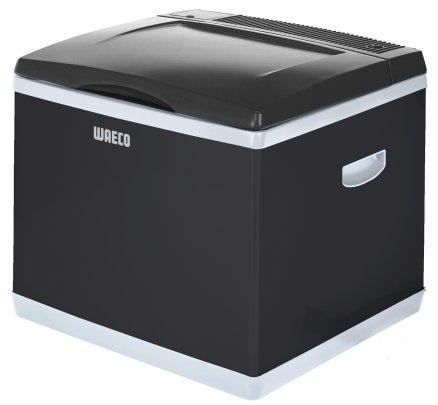 Made as a typical sturdy awning coolbox with a 40 litres capacity and incorporating a powerful compressor as well as a thermoelectric cooling unit. The thermoelectric cooling unit on the Dometic Waeco Mobicool B40 comes in when the cooler is connected the 12-volt car battery. This ensures that the cool chain is maintained during transport from home your location. The compressor mode the Mobicool B40 cool/freezer box provides cooling and deep-freezing up to -15°C, even at high ambient temperatures. The thermoelectric system achieves 20°C below the ambient temperature.
Technical Specifications:

Gross Capacity: 40 litres

Input Power: 12volts DC, Compressor 230 volts AC (220 ? 240 V) / 50 Hz / 0.65 A built-in adapter

DC: 47 watts (cooling max. 20°C below ambient temperature)

AC: 65 watts (refrigeration and deep-freezing, continuously variable thermostat +12°C to 15°C)

Average Running Time: 6% at 20°C ambient temperature, 10% at 32°C ambient temperature, both at 5°C interior temperature

Insulation: CFC-free polyurethane foam

Cooling Performance: +12°C to -15°C

Colour: Black (We have some Coronet blue please call for details 0151 334 0222)

Weight: 21kg

Dimensions: (L x W x H) 520 x 510 x 450mm

Product Code: B40 12230 D 001

Power connection: 12 v DC cigar plug or 230 v AC UK 3 pin plug
To buy any of these cool boxes head to our new site just click here


Cool box includes 12 volt & Mains plug
| | |
| --- | --- |
| | |
| | |
| Refrigerator +7°C freezer compartment up to -12°C | 12v / 230 Volts |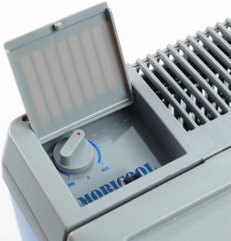 Continuously variable temperature from +12°C to -15°C in compressor mode.