Fibre Optic Swimming Pool Lighting UK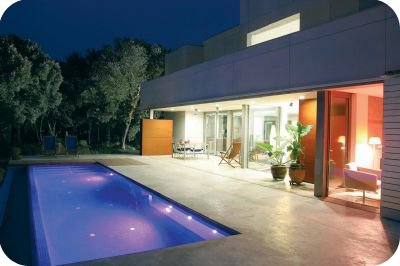 Page under construction


Fibre Optic Generators
Certikin's generators are light sources that provide optimum light intensity for fibre optic swimming pool lighting installations. Equipped with special lamps, these fibre optic light generators have an electronic control circuits to activate the following operations: On/off, colour selection and automatic function modes.
The generators have an IPX4 protection rating and are therefore suitable for outdoor installation of fibre optic swimming pool lighting.


Advantages
Large 600 fibre capacity - less generators are required in any given installation. Remote control included for all generators. Auto synchronization for multiple generators. The generators are auto synchronizing without the need for master / slave generators. A simple cable connection is all that's required regardless of generator type and generators from different ranges may be connected within a single installation.


Features
Eight different colours - White, Dark Green, Cyan, Pink, Blue, Lime Green, Yellow and Aquamarine

Colour change - the use of a step by step motor allows the colour to be controlled with instant changes

Sequential colour change with variable timing by colour - allows colour changes with predetermined duration of between 10 seconds and 10 minutes which can be set individually for each colour via the generator.

Variable speed continual colour change - in this mode the colour wheel can be set to a constant speed of anywhere between 30-180 seconds per turn. This speed is programmable via the generator.

Timed off switch - variable timer with automatic off switch adjustable for half hour to 4 hour operation.

Start up functionality - the generator will always start up in the same operating mode as the last time the power supply was switched off, following any interruption to the power supply (including power cuts or where an external timer is in use).

Optional Keypad disablement function - for public pools where the generator is located within reach of the swimmers, the keypad can be disabled to avoid accidental interference.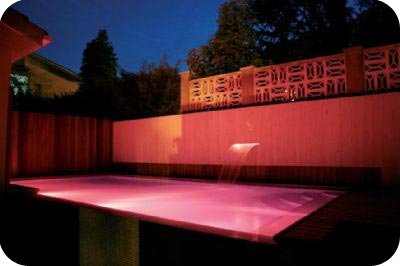 Fibre Optic Cables
There are two types of fibre optic cable: end transmission cables and side transmission cables also known as perimeter fibre cables. The end transmission cables transport light from the generator to different receiver elements, such as wall lights, waterfalls, stars etc. Fibre optic swimming pool cables are manufactured with a black PVC cover indicating the number of fibres. Perimeter fibre cables are manufactured with a transparent cover and have the special feature of transmitting light along their whole length.
The guide rails enable the perimeter fibre to be installed around the swimming pool. They are flexible for easy installation and manufactured in transparent PVC.
Page under construction