Electronic Swimming Pool Cleaners UK
Astral H3 Duo Automatic Robotic Swimming Pool Cleaner

The Astral H3 Duo robotic cleaner is Astrals leading model of robotic pool cleaners, with its cutting edge technology and contemporary design making it there top-of-range robotic cleaner for private pools.

Featuring gyro technology, the smart navigation system will ensure your swimming pool is thoroughly cleaned. The smart technology with make sure that it avoids all types of obstacles, as well as having a tangle-free power cable for an uninterrupted operation.

The LED indicator display will show you when the filter is full, as well as the transparent windows makes it easy to see the level of dirt inside the cleaner.

For a more thorough clean pool, the Astral H3 features a vibrating brush, which will make sure that as much dirt gets picked up.
| | | |
| --- | --- | --- |
| Astral H3 Duo Cleaner Details | Code | BUY NOW! |
| Astral H3 Duo Automatic Cleaner | 63179 | |
Astral H5 Duo Automatic Robotic Swimming Pool Cleaner

The Astral H5 Duo cutting-edge technology and a contemporary design makes this cleaner one of the best cleaners for private pools.

The H5 Duo pool cleaner features a new ultrafine 3D filter, which provides the highest quality cleaning finish. To add to the quality, the H5 includes adjustable suction nozzles and PVA brushing to provide better quality gripping on pool walls.

Advantages of a single platform and a block comprising 2 of 2 motors and 1 filtratrion pump:

Improved power transmission.
More effective vibration cleaning.
Longer lasting: no drive belts or enhanced motor seals needed.
Double traction motor & Gyro system.
Easy for customers to repair.
| | | |
| --- | --- | --- |
| Astral H5 Duo Cleaner Details | Code | BUY NOW! |
| Astral H5 Duo Automatic Cleaner | 66016 | |
Astral H7 Duo Automatic Robotic Swimming Pool Cleaner

The Astral H7 Duo Robotic Swimming Pool Cleaner shares a number of the same functionality as the previous models. However the Astral H7 has an extended cable length, advanced swivel system and 2 x 24v DC Drive Motor.

The H7 is built to suit larger sized swimming pools of up to 18m in length. The 2 powerful suction nozzles which are height adjustable allow for the powerful cleaning of an 18m swimming pool.

Astral H7 Duo Robotic Pool Cleaner Features:

Pre-programmed pool shape.
Advanced swivel shape.
2 x 24v DC drive motor.
Easy access to the filer.
Fast moving brush.
Built-in programmer.
Remote Control
| | | |
| --- | --- | --- |
| Astral H7 Duo Cleaner Details | Code | BUY NOW! |
| Astral H7 Duo Automatic Cleaner | 57347 | |
Zodiac Vortex 1 Swimming Pool Cleaner

The Zodiac vortex 1 automatic electronic swimming pool cleaner is the 1st pool robot patented with Vortex™ technology : powerful and continuous cyclonic suction throughout the cleaning cycle. The Vortex Effect creates an immensely powerful whirlpool inside the filter. The debris remains in suspension thus avoiding the filter becoming clogged.



VORTEX Technology: powerful and constant cyclonic suction throughout the cleaning cycle.
Low space occupation and minimum weight for easy handling and practical stowing.
Practical with its hygienic, easy to empty filter tray
Very low power consumption
2 transport handles of ergonomic design
Built-in mini-brush
| | | |
| --- | --- | --- |
| Swimming Pool Cleaner Details | Code | BUY NOW! |
| Vortex 1 Electronic Swimming Pool Cleaner | BAR200020 | |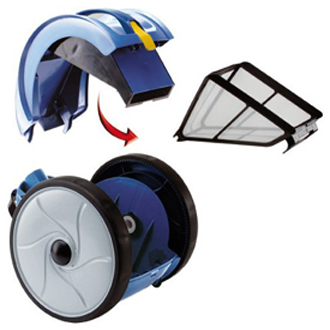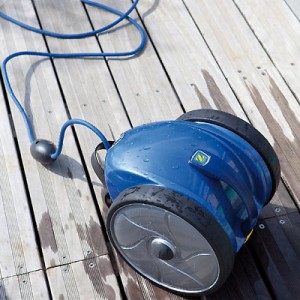 Zodiac Vortex 3 Swimming Pool Cleaner

The Zodiac vortex 3 automatic electronic swimming pool cleaner is the 1st pool robot patented with Vortex™ technology : powerful and continuous cyclonic suction throughout the cleaning cycle. The Vortex Effect creates an immensely powerful whirlpool inside the filter. The debris remains in suspension thus avoiding the filter becoming clogged.



Choice of 2 cleaning cycles : "Bottom only" mode: 1.30 hrs : "Bottom & walls" mode: 2.30 hrs
Wider suction opening adapted to all types of debris
High-speed rotating brushes
Rear jet for enhanced propulsion and adherence
Large capacity filter chamber : the debris is collected in a separate chamber located on the top of the appliance. It only takes one click to empty it.
Easy to remove from the water(front handle + rear evacuation)

| | | |
| --- | --- | --- |
| Swimming Pool Cleaner Details | Code | BUY NOW! |
| Vortex 3 Electronic Swimming Pool Cleaner | BAR200021 | |
All Prices Include VAT