Automatic Swimming Pool Covers
Roldeck Slatted Covers
For a quote or advice please call us on 0151 334 0222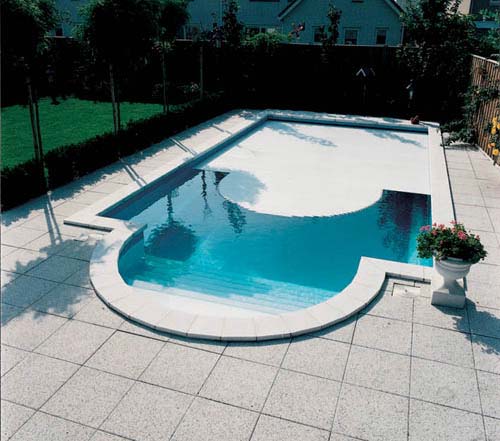 Please click here for the Roldeck Slatted Swimming Pool Cover
Above Ground installations Automatic pool cover
A Starline Roldeck can be installed in many ways. One of the options is above ground installation. The easiest way to install a Starline Roldeck along one of the sides of the pool. In order to finish the Roldeck, an aluminium housing can optionally be installed. If there is a wall along one of the sides of the swimming pool, the Roldeck can also be installed against this wall. The easiest and fastest way to cover your pool; new or existing!
In-Ground installations
The Starline Roldeck slatted swimming pool cover use a unique system which allows the Roldeck to be entirely integrated into the swimming pool. There are various options for this.
The system can operate using either an external motor or an in-roller motor. The use of the in-roller motor makes a separate motor pit unnecessary. Furthermore, a Roldeck equipped with an in-roller motor is eminently suitable for existing swimming pools or for situations in which high groundwater levels cause problems.
Fitting service available anywhere in the county POA.
Slats

The Starline Roldeck's slats are made of hard PVC: a high-quality, strong, weather resistant plastic which ensures a long product life. The ultrasonically welded end caps are finished in the same colour as the slat and are guaranteed to be absolutely waterproof!
The Starline Roldeck is available in various colours. Coloured slats keep light out of the swimming pool thereby preventing algae growth, transparent slats combined with underwater lighting look spectacular. The transparent slats are therefore very suitable for indoor swimming pools.
A special 'solar' version is available for outdoor pools. These slats allow you to utilise sunlight to heat the swimming pool's water which saves energy.
Drive & Control
Starline In-roller motors; the most reliable drive system Starline has an own range of innovative in-roller motors for all applications. A Roldeck with an in-roller motor is ideally suited to existing pools or in locations where high groundwater table levels are a problem. A separate motor pit is unnecessary and only a modest roller axle is needed.
The stainless steel housing of the Starline in-roller motor is filled with nitrogen to prevent corrosion by condensation. The watertightness is monitored continuously by a built-in pressure sensor.Automatic swimming pool cover
The range of Starline in-roller motors has 3 models: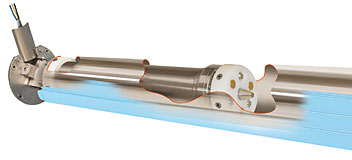 100 Nm: suitable for pools up to 10 x 5 m
150 Nm: suitable for pools up to 15 x 7.5 m
500 Nm: suitable for pools up to 30 x 10 m

The in-roller motor has two cabling options; cable through- or along the wall. Cable through the wall: The cable is passed through the wall using a wall duct. The motor-side support is equipped with a freewheel device that can be removed. This makes it possible to always open or close the Roldeck manually which guarantees safety at all times. Cable along the wall: The cable passes out through the pool wall in a stainless steel cable duct, which is mounted on the motor support. The cable is laid along the inside of the pool and covered with a stainless steel profile which does not adversely affect the finishing or the dimensions of the Roldeck.
Roldeck Control


The Starline RD2006 control panel operates the Roldeck with just a few buttons. It has the same design as all the other Starline controls. The RD2006 control comes with connections for the child-safety lock, jetstream, filter pump, pressure measurement, single-button operation and an extensive error code diagnosis system which makes malfunctions easier to recognise for servicing.
The RD2006 Roldeck control panel work via a "plug and play" principal with several optional modules, such as a remote control, a separate programming unit, automatic lid control and a electronic brake module for the large 500 Nm in-roller motor.
For a quote or advice please call us on 0151 334 0222
Coverstar Automatic Safety Swimming Pool Covers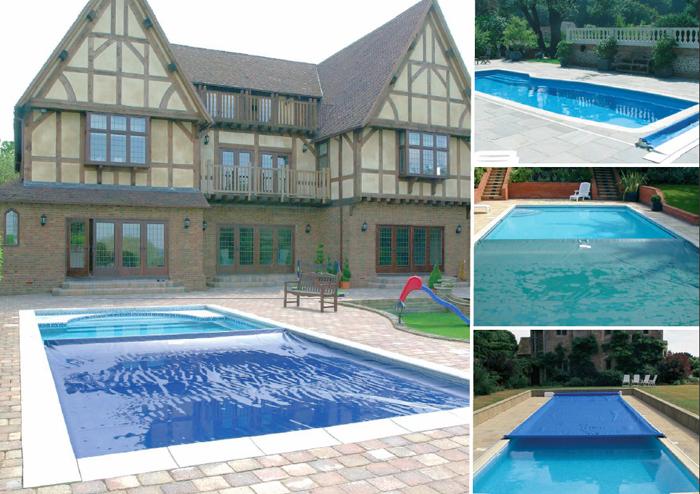 Seal in the good, keep out the bad and have more time to enjoy your pool! Coverstar prevents the bad stuff like leaves, dirt and debris from getting into your pool whilst keeing the good stuff - heat, water and chemicals from getting out. With less time to worry about maintenance, upkeep, getting the right chemical and heat levels and safety you'll have more time to relax and enjoy your pool.

Deck-Mount.

This is a fully above ground system. The mechanisms and guides are secured to the deck surround of the pool. This is the most common form of retrospective fit cover as no alteration is needed to the pool surround providing it is solid and level. When fitted the roller is visible. The mechanisms at either end of the roller can be covered with white housings if required (at no extra cost), alternatively a timber housing is available through your Coverstar dealer. Along with the following two system options and because guides are secured to the deck, almost any pools shape can be covered.
Coverstar Automatic Safety Swimming Pool Covers
Horizontal Flush-Guide (Deck or Recessed).

Flush guides sit in channels recessed along either side of the pool, leaving a flush finish. Generally the guides sit behind copings on a rectangular pool, but again, as this is a deck guide system almost any pool shape can be covered. Mechanism and roller can be deck mounted or recessed into a pit.
Coverstar Automatic Safety Swimming Pool Covers
Under-guide.

These systems offer by far the neatest finish for rectangular pools. The guides can be built into the pool wall while under construction known as encapsulated under-guide. The track is virtually hidden and the pool is sealed from the pool wall not the surrounding deck. All mechanisms are recessed into a pit and can be covered with the standard aluminium lid or lid trays (see options page).
Coverstar Automatic Safety Swimming Pool Covers
Under-guide with Linerlock tracking.

As above but with liner lock tracking to provide the perfect installation for new liner pools with a Coverstar system. The pool can be constructed in the normal way and a standard liner can be used. However, rather than fit a separate liner lock extrusion it is included as part of the track.
Safety:
Safety is a natural concern for those buying a pool, which is where Certikin's Coverstar comes into its own as it is one of the best covers on the market place. It is more than capable of supporting children, pets and even adults should they accidentally walk on it, and it also has other huge advantages over competitor's products.


Mechanical Benefits:

The Coverstar system is based on strength. For example, the sliders, which are traditionally the weakest part of a cover system are more than four times as strong as any other slider used in the industry.
Coverstar's exclusive heavy-duty double row sealed stainless steel ball bearing pulleys have almost triple the load bearing capacity of single row pulleys used by other companies. In addition, the exclusive rope has a breaking strength of 4000psi, twice that of standard Dacron ropes.
No shear pins or bolts are used in the Coverstar drive train, instead the system operates with keyways to provide maximum reliability. Within the drive train, Coverstar's exclusive Positive Shift Gear system completely disengages one gear before shifting to the other.
Unlike other systems, it cannot double engage causing the system to try to run in both directions at the same time, causing the gears to wear and slip. To top it all, the surrounding and connected heavy-duty frameworks and brackets are fully expandable, ensuring the most solid fixing and eliminating bent and/or broken brackets. Once the system is locked into place, it cannot move around.
Fabric Benefits:

All of this would be worthless without a good quality fabric to cover the pool. Rather than use the industry standard vinyls, popular with other cover manufacturers, Coverstar supply the far superior Ultra guard III vinyl composite in a range of colours. Ultraguard III offers the best solution available to problems posed in safely covering a pool in current harsh environments.
For those times when we do get sunny periods, you can be assured that the high level of UV resistance offered will reduce the level of colour fading considerably as compared to standard vinyl. Under test conditions, Ultraguard III has been exposed to the equivalent of approximately four years of Florida sun and fading was shown to be negligble. This fabric also offers high resistance to chlorine, acid, ozone and other pool chemicals.

Installation
Coverstar is suitable for both deck mount and pit mounted installations and come with a choice of housing and end covers (for deck mounting) and a selection of pit coverings for pit mounted installations. In addition, we offer installation by factory trained engineers for Coverstar covers.
Please click here for the Coverstar Automatic Swimming Pool Cover
Fitting service available anywhere in the county POA.
For a quote or advice please call us on 0151 334 0222