Caravan Motorhome Water Pressure Pumps
SHURflo Pumps
Automatic triple diaphragm pumps with integral pressure switch. Triple diaphragm feature ensures smooth water flow. Will run dry without damage.
Motors have internal circuit breaker for overload protection and are fully suppressed. Robust die cast allow lower housing with twin ball bearing drive.
these pumps have low amp draw and are very quiet in operation. 20psi model is suitable for low pressure water storage heaters such as Cascade Rapide, 30psi suitable for instantaneous water heaters such as Rinnai and Vaillant.
Both 20psi and 30psi pressures are suitable for the Truma Ultrastore water heater.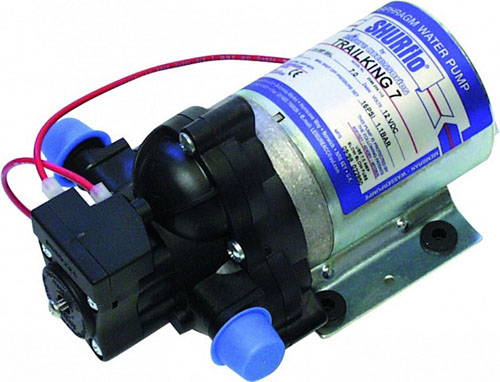 Shurflo Trail King 7 Water Pump

12V

Flow 7 L/min

20PSI

Self Prime: yes

57dB

#044435

12V

Flow 7 L/min

30PSI

Self Prime: yes

61dB

#044440

Shurflo Trail King 10 Water Pump

12V

Flow 10.6 L/min

40PSI

Self Prime: yes

70dB

#044350

24V

Flow 10.6 L/min

30PSI

Self Prime: yes

71dB

#044445