Dometic CK2000 Exhaust Cooker Hood Extractor
High quality extractors manufactured by Dometic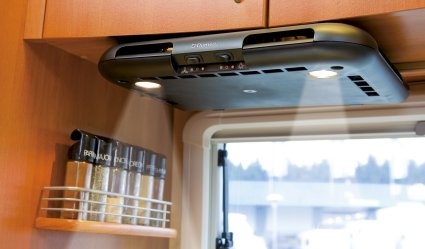 The 1st air circulating cooker hood in the caravan industry. With 50 m³/h capacity CIRCULAIR performs more efficient than conventional cooker hoods – while offering a low DC-consumption of only 5 W. A roof-mounted ventilator is no longer necessary as the cleaned air is returned downwards while the suction is concentrated along the edges. This creates an air-dome which stops fumes escaping.
Lateral air suction ensures efficient performance with 38 or 45 m³/h at selectable speed 1 or 2

Easy installation as no roof-mounted ventilator is necessary
With 2 fan-speed regulation and integrated halogen lights
Washable grease filter and exchangeable carbon filter
Snap-on-releases for easy access to filters and lamps
Replaceable activated carbon filter
Integrated lighting
Click here for the Dometic CK2000 Cooker Hood Extractor Fan user manual

The Dometic CK2000 extractor has Exchangeable activated carbon filter and washable metal grease filter.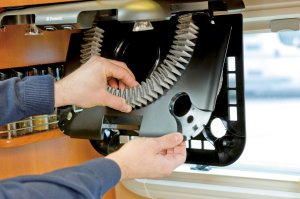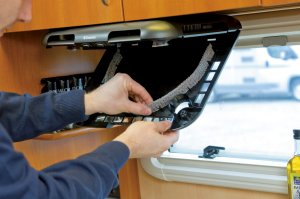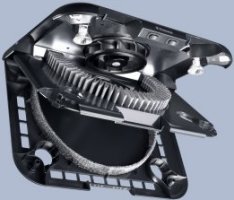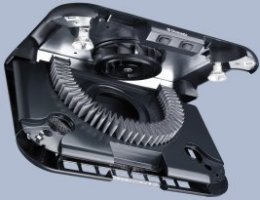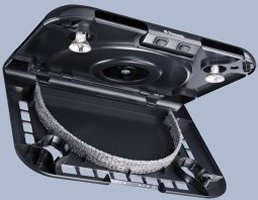 In stock & sent on a next working day carrier!
Technical Details

Width (mm)

400

Height (mm)

55

Depth (mm)

280

Weight (kg)

2.2

Speeds (Adjustable Ventilation)

2

Power input (depending on speed) (W)

5 - 25

Suction volume (m³/h)

45

Noise level (1m) (dB)

50

Lamps (V)

12

Halogen lamps

2x10W
Dometic CK400 Exhaust Cooker Hood Extractor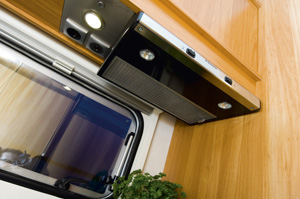 2 speed fan featuring a 12 V motor integrated in the roof dome makes it easy to avoid condensation, exhaust fumes and heat built-up. Connected to the exterior via a flexible duct and weather-proof cap for mounting on the roof of the caravan.
The Dometic exhaust cooker hoods quickly draw cooking fumes, odours & moisture out of the vehicle. The compact fan, equipped with a 12 volt motor, is integrated into the roof dome and not into the unit itself. This design optimises airflow and performance.
Detachable and washable filter 2 built-in halogen lights
A 3-position switch
Easy to install and maintenance-free
Washable metal grease filter
Waterproof roof dome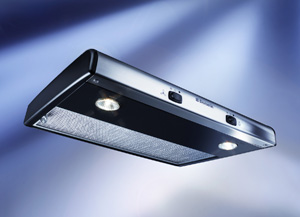 Click here for the Dometic CK400 Cooker Hood Extractor Fan user manual

In stock & sent on a next working day carrier!
Technical Details

Width (mm)
399
Height (mm)
71
Depth (mm)
277
Opening for installation Ø (mm)
105
Lamps (V)
12
Halogen lamps
2x10W