Propex Malaga 5 Water Heaters for Caravans and Motorhomes UK
This Propex Malaga 5 Water heater has a high capacity water storage heater is available in two versions, the standard Malaga, with an efficient gas burner, and the Malaga E, which has the additional benefit of a 750 watt electric heating element. Both Propex Malaga water heaters can provide a quick and efficient supply of hot water for showering and washing in touring and motor caravans. The heater may also be installed in boats used exclusively on inland waterways i.e. Class 1 & 2 and subject to finding a satisfactory mounting position. Being a room sealed appliance it conforms to the requirements of the Boat Safety Scheme.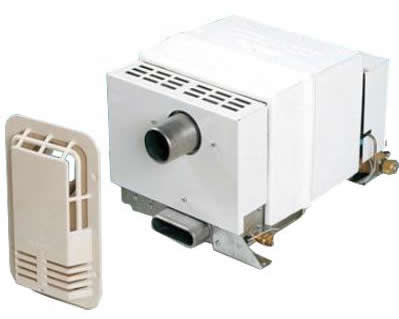 | | |
| --- | --- |
| Malaga 5 13 Litre Water Storage Heater - with flue and switch panel, gas only | |
| Malaga 5 E 13 Litre Water Storage Heater - As above but with 750W/230V immersion heater for use on gas or mains electric, or both | |
Micro-processor Controller Electronics
The Propex Malaga 5 water heater is equipped with the latest Propex electronics for accurate digital control of the heater operation and safety functions. The switch panel features a 3 position switch for selecting either "gas only" or "gas and 230v". If you want to use the heater on 230v only, you simply switch off the gas tap that supplies the heater whilst leaving the switch in the "gas and 230v" position. The yellow L.E.D. on the switch panel lets you know when the gas burner is operating and also, by flashing a certain amount of times, indicates various fault conditions.

Dimensions

Overall

H 250mm x W 325mm x D 445mm

Weight Empty

9.3kg

Tank Capacity

Water Temperature Thermostat Setting

70 °C

Overheat Thermostat Setting
Water Supply
The heater will operate satisfactorily on either a system where the pump is controlled by the tap micro switches or the one controlled by a pressure switch. It must not be connect to mains water supply. Water connections can be provided to suit a range of standard fittings. Reinforced or semi rigid pipe must be used.
Dimensions

Pressure Relief Valve Settings

3 bar

Maximum Working Pressure

2 bar

Maximum Working Supply Pressure

1.3 bar
Gas Supply

Heat Input

1.15kw

84g/h

Pressure Settings

Propane

37mbar

Butane

28mbar

Mixtures

30mbar

Injector

Electrical Supply

12v DC

Gas Connection
The Malaga and Malaga E heaters have been tested and comply with the following: 90/396/EEC gas appliance directive. 89/336/EEC EMC directive. 73/23EEC low voltage directive. It is manufactured under ISO 9001:2000 plus annex 11.3 gas directives 90/396EEC.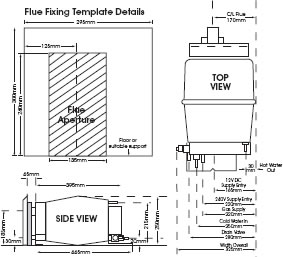 Installation Requirements
The heater should be floor mounted or suitably supported, normally in the bed box.
The flue is designed to pass through a vertical section of the caravan wall, structural sections of which should not be damaged.
The flue terminal position should not be closer than 300mm below an opening window or 600mm from a vertical corner.
Clearences required for installation and servicing: as seen from inside the caravan.
| | |
| --- | --- |
| LHS 240mm | RHS 5mm |
| | |
Large 13 litre capacity - for longer washing and showering facilities
Efficient gas burner - for faster warm up
750W element on Malaga E - use on its own or with the gas burner for even faster hot water
Small flue terminal - neat appearance outside the caravan
Safe - combustion products are completely sealed from the caravan interior
Easy to fit and service - all controls accessible at the rear of the unit
Electronic control - turns on the heater at the flick of a switch and supervises burner operation
Automatic resettable overheat cut out
Compact dimension - more room to route pipework and ducting where necessary