Cotton tents
Cotton
has

not only been around longer than synthetic material, but it also has a number of distinct advantages; reduced condensation, longer life expectancy, and is cooler in summer and environmentally friendly. The benefits of the material combined with the design and cut of these tents explains the growing popularity of this range of models.
Please note we no longer supply this range of tents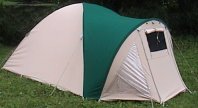 Click image for Relum Cherwell Lakeland and Alaska cotton tents

Click image for Relum Task Force cotton tents
Purchasing
We like to think these prices are the best you will get. If you find a dealer who can do better let us know. We will at least try and match the price or beat it. For purchasing information please go our main Relum page just click here or to see what else we do you can go to our main index by clicking here.
Last modified: 06-10-11